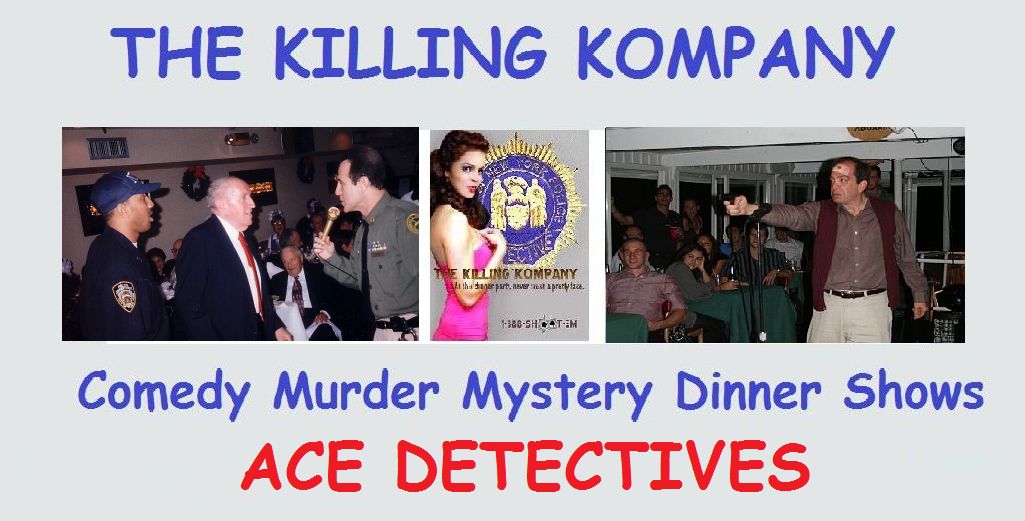 Since October of 1996, we began to list the names of our audience members who correctly guessed the murderer (or murderers) and won the prize for the show (and we apologize to all our earlier winners...but we didn't keep records of your names). To view our past Ace Detectives, just follow these links:
1996 Ace Detectives...1997 Ace Detectives...1998 Ace Detectives...1999 Ace Detectives...2000 Ace Detectives
2001 Ace Detectives...2002 Ace Detectives...2003 Ace Detectives...2004 Ace Detectives...2005 Ace Detectives
2006 Ace Detectives...2007 Ace Detectives...2008 Ace Detectives...2009 Ace Detectives...2010 Ace Detectives
2011 Ace Detectives...2012 Ace Detectives...2013 Ace Detectives...2014 Ace Detectives...2015 Ace Detectives
2016 Ace Detectives...2017 Ace Detectives
---
AND NOW LADIES AND GENTLEMAN, WE PRESENT OUR ACE DETECTIVES FOR 2018:
January 1, 2018: Back again for this year's New Years Eve show at HOTEL INDIGO and DENISE DELROSSO is our first 2018 Ace Detective!>
January 19, 2018: So it wasn't exactly The Golden Globes at PALMER'S AMERICAN GRILLE in Farmingdale but it was award night for ALEX M. in his performance as Ace Detective!>
January 20, 2018: And then Hollywood came to Hillburn at THE VIEWS AT MT. FUJI and the Ace Detective is ..... KATHY LANDRO!>
January 26, 2018: It was a night of sports, family, friendship and murder at ASPETUCK VALLEY COUNTRY CLUB and Ace Detective KATY PIAZZA went home with all the prizes!>
February 3, 2018: Mazel Tov JOSHUA GELFAND who not only solved tonight's crimes but helped raise money for YOUNG ISRAEL OF NEW ROCHELLE and MIKVAH OF NEW ROCHELLE!>
February 10, 2018: A Valentine wish went wild at RICCARDO'S in Astoria but Ace Detective KEVIN ANDERSON came through with the love!>
February 17, 2018: Winter storm warnings mean nothing to Ace Detective ANGELIKA JINDRACEK when it comes time to solve the murders at THE VIEWS AT MT. FUJI in Hillburn!>
February 23, 2018: Three Ace Detectives at PALMER'S AMERICAN GRILLE in Farmingdale, no way...but way: MERYL DUBITSKY, KRISTINA C. and MIKE MARZO!>
March 10, 2018: We were family at THE VIEWS AT MT. FUJI in Hillburn but only OLIVIA DELFS was Ace Detective!>
March 15, 2018: JANE RODRIGUEZ did not have to beware the Ides of March at THE CHART HOUSE in Atlantic City and her bravery led to her appointment as Ace Detective!>
March 23, 2018: Finally a Spring Break at PALMER'S AMERICAN GRILLE in Farmingdale but no break to the killers thanks to Ace Detective BRIAN DOLON!>
Join Our Mailing List And Receive A Monthly Notice Of Our Upcoming Murder Mystery Dinner Theatre Shows And Other Events! Your Email Address Is Used By Us Only For Our Mailing List: It Is Not Shared Or Given To Anyone Else And Is Not Used For Any Other Purpose!
You Can Also Email Us Directly With Your Request To Subscribe At killingkompany@killingkompany.com And We Will Add You To One Of Our Email List Groups
---
AS SEEN ON METRO TV - THE GUIDE
AS SEEN ON FIOS 1 TV - PUSH PAUSE
AS SEEN ON CNN FN
AS SEEN ON FOR YOUR ISLAND






TO VIEW COPIES OF VARIOUS NEWSPAPER ARTICLES ON OUR MURDER MYSTERY DINNER THEATRE SHOWS, CLICK ON THIS LINK:
TO VIEW COPIES OF VARIOUS LETTERS OF REFERENCES FOR OUR PRIVATE MURDER MYSTERY DINNER THEATRE SHOWS, CLICK ON THIS LINK:
TO VIEW COPIES OF VARIOUS EMAILS FROM AUDIENCE MEMBERS OF OUR PUBLIC MURDER MYSTERY DINNER THEATRE SHOWS, CLICK ON THIS LINK:
---
JOIN US ON FACEBOOK
AND OUR FACEBOOK FAN SITE
---
FOLLOW US ON GOOGLE PLUS, LINKEDIN, TWITTER, BLOGGER, INSTAGRAM, TUMBLR
---
We're also a proud member of

---
TO GO TO THE NEXT PAGE:
KILLING KOMPANY KASTS & KASTING
TO GO TO ANY PAGE:
Home Page........Schedule of Shows........Reviews........Ace Detectives........Kasts & Kasting Information........Private Events........Other Interactive Shows
Business Theater........Links



Web Author: The Killing Kompany
Copyright 1996 - 2018 by Jon Avner and The Killing Kompany - THE KILLING KOMPANY is a trademark of THE KILLING KOMPANY MURDER MYSTERY DINNER SHOW, INC. - ALL RIGHTS RESERVED