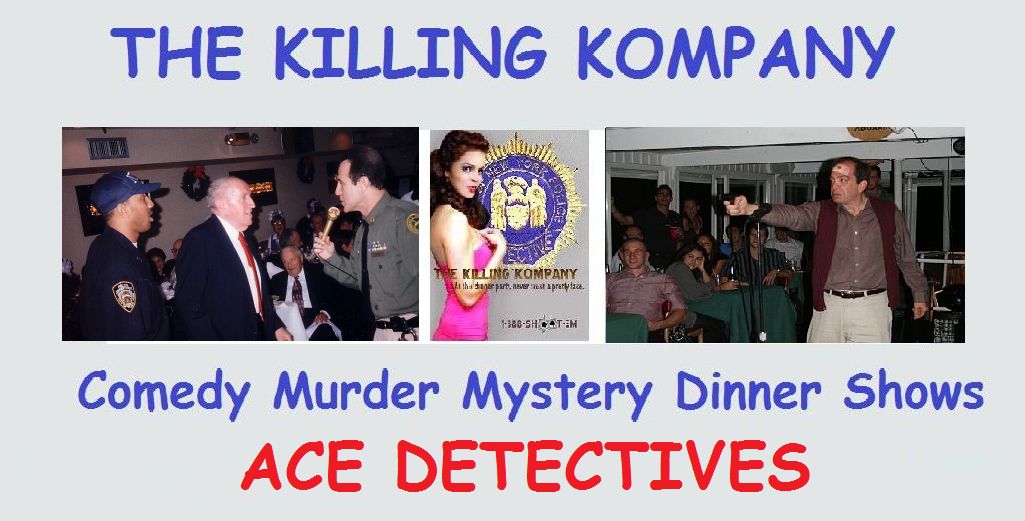 Since October of 1996, we began to list the names of our audience members who correctly guessed the murderer (or murderers) and won the prize for the show (and we apologize to all our earlier winners...but we didn't keep records of your names). To view our Ace Detectives from 1996 through 2014, just follow these links:
1996 Ace Detectives...1997 Ace Detectives...1998 Ace Detectives...1999 Ace Detectives...2000 Ace Detectives
2001 Ace Detectives...2002 Ace Detectives...2003 Ace Detectives...2004 Ace Detectives...2005 Ace Detectives
2006 Ace Detectives...2007 Ace Detectives...2008 Ace Detectives...2009 Ace Detectives...2010 Ace Detectives
2011 Ace Detectives...2012 Ace Detectives...2013 Ace Detectives...2014 Ace Detectives
AND NOW LADIES AND GENTLEMAN, WE PRESENT OUR ACE DETECTIVES FOR 2015:
January 1, 2015: Once again we began the year with an overnight New Years Eve show at DOUBLETREE HILTON in Tarrytown and with over 260 people in attendance, we celebrated with three Ace Detectives for 2015 - HELEN KINGSLAND, GERRY PRAGER and CHRISTOPHER GERAGITTY...with a special mention to KRISTINA MOON who claimed it was Kim Kardashian and "Booty Gate"!>
January 16, 2015: For our debut at THE SUFFOLK THEATER in Riverhead, we took BREANA COCHRAN out of the balconey and transformed her into the theater's first Ace Detective!
January 17, 2015: Off to THE VIEWS AT MT. FUJI in Hillburn where LARRY CAREY turned in a winning performance as Ace Detective!
January 21, 2015: A mystery for RAMAPO MANOR at THE VIEWS AT MT. FUJI in Hillburn and fortunately the criminal was "rehabilitated" by LINDA the Ace Detective!
January 22, 2015: "Surety" we all had a good time with the dinner for CASHIN SPINELLI & FERRETTI and THE TLGRR LAW FIRM and it was no "accident" that DAN O. COLDENKAMP was elected Ace Detective!
January 23, 2015: And then a good time was "insured" with CAMBRIDGE BROKERAGE GROUP and CAPITAL RISK MANAGEMENT SERVICES with DONNA JAQIELSKI picked as our latest Ace Detective!
February 7, 2015: It was Mardi Gras night at SACRED HEART SCHOOL OF BAYSIDE and instead of being the intended victim, PRINCIPAL DENNIS J. FARRELL wound up as Ace Detective!
February 14, 2015: Valentine's Day and Ace Detective Day was in store for MELLISA FALK at RICCARDO'S in Astoria!
February 22, 2015: Snow and icy roads ruled this evening at THE VIEWS AT MT. FUJI in Hillburn but it was love and murder at first sight for Ace Detectives NICOLE IANCOVETTA & ANDREW KAPLAN!
February 24, 2015: There's always a good time for a mystery for STRYKER PROCARE SERVICE at THE VIEWS AT MT. FUJI in Hillburn and never a good time for criminals with Ace Detective MARK HORWATH!
March 5, 2015: A holiday party in March for FARIENT ADVISORS was celebrated by appointing "Vitamin K" KARL THUMM as Ace Detective!
March 7, 2015: This was our first show at LONG BEACH HOTEL in Long Beach and the first time KERRI PRINS made Ace Detective!
March 14, 2015: We celebrated St. Patrick's Day at THE VIEWS AT MT. FUJI in Hillburn but the "luck of the Ace Detective" was with CAROLYN BARBA!
March 24, 2015: The vision and mission of the BSO Global Head Group at NOVARTIS was achieved by the Ace Detectives known as THE KNOW IT ALL TEAM!
April 10, 2015: The killers are "sleeping with the fishes" at THE LONG ISLAND AQUARIUM with the nautical skills of Ace Detective PETE!
April 17, 2015: Off to THE WEST POINT CLUB in West Point where we agree that TY SWABY is not only an "exotic dancer extraordinaire" but an Ace Detective!
April 18, 2015: It may have been a date for murder at THE VIEWS AT Mt. FUJI in Hillburn but the killer found a perfect match with Ace Detective HEATHER McGINNESS!
April 21, 2015: Off to STONY BROOK UNIVERSITY where RAY PAK proved he was an educated Ace Detective!
May 6, 2015: Not a murder mystery but a game show for TOYS R US and a salute to our grand prize team winner REGION 4!
May 7, 2015: And then we had an outdoor game show with the administrative professionals at the law firm of LOWENSTEIN SANDLER and the verdict came in for the winning teams of WORK APPROPRIATE, FEUDANIGANS and BLUE SCREEN OF DEATH!
May 30, 2015: We celebrated PAT & DEBBIE's wedding and our we celebrated our beautiful young Ace Detective "Little Tess"
June 12, 2015: Another game show and this time it was for CHILD CENTER OF NEW YORK and what a crowd - 600 people!
June 13, 2015: And then at THE VIEWS AT MT. FUJI in Hillburn, FRAN graduated with a degree in Ace Detective!
June 14, 2015: A fake congresswoman at JCC ROCKLAND? Well, Ace Detective SUSAN FLAKS solved that mystery in 39 steps!
June 19, 2015: It was "Murder Most Foul" at the Father's Day Dinner at RICCARDO'S in Astoria, but "to be or not to be" an Ace Detective was answered affirmatively by SAM LEWIS!
June 20, 2015: Mazel Tov to JULIETTE BELLINSON on her Bat Mitzvah and to her cousin GIGI who is now one of our youngest Ace Detectives!
August 8, 2015: We took July off to prepare for our benefit show for THE LONG ISLAND COLUMBUS DAY PARADE COMMITTEE but we weren't prepared for MARGARET MAIER to be our resident nurse and Ace Detective!
August 14, 2015: Our first show at SUNNY ATLANTIC BEACH CLUB and THE NORTH SHORE GANG not only "saved the trees" but solved the murder and became Ace Detectives!
August 15, 2015: And then it was a camp reunion at THE VIEWS AT MT. FUJI in Hillburn where ERICA CAMPANETTI became the camp's Ace Detective!
August 21, 2015: A round of applause for THE TANSEY FAMILY - that group of Ace Detectives who solved the murder at WEST POINT CLUB in West Point!
August 22, 2015: Happy 50th Birthday to JOE MEDAGLIA and congratulations to Ace Detective JOSEPH MOEHRLE!
September 1, 2015: The Quality Assurance team at STRYKER ORTHOPAEDICS discovered that the plan and objective of TEAM BULLHORN (Tanya, Zarah, Kevin, Kuljat, Mary, Wayne, Nitesh and Tom) was to be a group of Ace Detectives!
October 4, 2015: What a blast we had with the KNIGHTS OF COLUMBUS PIERMONT COUNCIL in Tappan and what a blast to have CARA AND TOM SULLIVAN OF NYACK as our latest Ace Detectives!
---
Join Our Mailing List And Receive A Monthly Notice Of Our Upcoming Murder Mystery Dinner Theatre Shows And Other Events! Your Email Address Is Used By Us Only For Our Mailing List: It Is Not Shared Or Given To Anyone Else And Is Not Used For Any Other Purpose!
You Can Also Email Us Directly With Your Request To Subscribe At killingkompany@killingkompany.com And We Will Add You To One Of Our Email List Groups
---
AS SEEN ON METRO TV - THE GUIDE
AS SEEN ON FIOS 1 TV - PUSH PAUSE
AS SEEN ON CNN FN
AS SEEN ON FOR YOUR ISLAND





TO VIEW COPIES OF VARIOUS NEWSPAPER ARTICLES ON OUR MURDER MYSTERY DINNER THEATRE SHOWS, CLICK ON THIS LINK:
TO VIEW COPIES OF VARIOUS LETTERS OF REFERENCES FOR OUR PRIVATE MURDER MYSTERY DINNER THEATRE SHOWS, CLICK ON THIS LINK:
TO VIEW COPIES OF VARIOUS EMAILS FROM AUDIENCE MEMBERS OF OUR PUBLIC MURDER MYSTERY DINNER THEATRE SHOWS, CLICK ON THIS LINK:
---
JOIN US ON FACEBOOK
AND OUR FACEBOOK FAN SITE
---
FOLLOW US ON GOOGLE PLUS, LINKEDIN, TWITTER, BLOGGER, INSTAGRAM, TUMBLR
---
We're also a proud member of

---
TO GO TO THE NEXT PAGE:
KILLING KOMPANY KASTS & KASTING
TO GO TO ANY PAGE:
Home Page........Schedule of Shows........Reviews........Kontests
Ace Detectives........Kasts & Kasting Information........Private Events........Other Interactive Shows
Business Theater........Links



Web Author: The Killing Kompany
Copyright ©1996 - 2015 by Jon Avner and The Killing Kompany - THE KILLING KOMPANY is a trademark of THE KILLING KOMPANY MURDER MYSTERY DINNER SHOW, INC. - ALL RIGHTS RESERVED