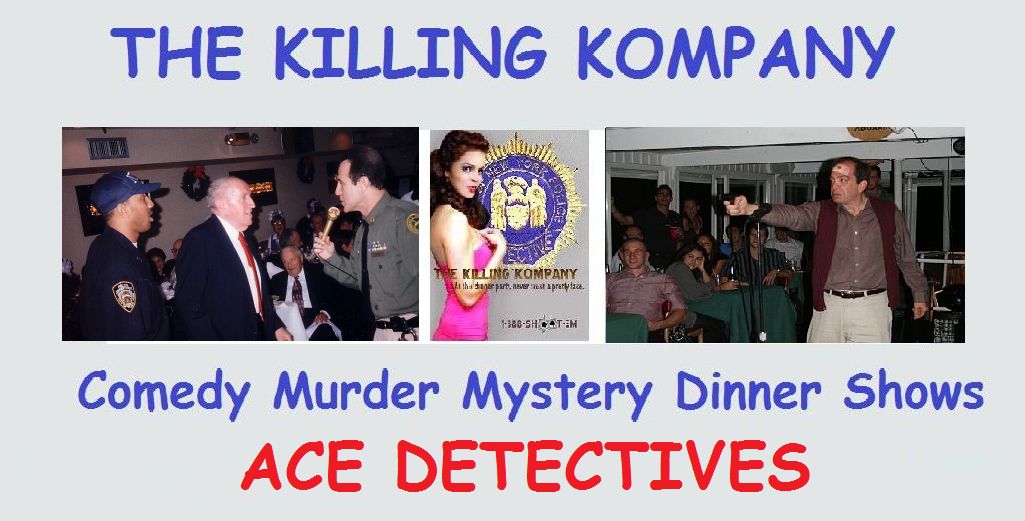 Since October of 1996, we began to list the names of our audience members who correctly guessed the murderer (or murderers) and won the prize for the show (and we apologize to all our earlier winners...but we didn't keep records of your names). To view our Ace Detectives from 1996 through 2013, just follow these links:
1996 Ace Detectives...1997 Ace Detectives...1998 Ace Detectives...1999 Ace Detectives...2000 Ace Detectives
2001 Ace Detectives...2002 Ace Detectives...2003 Ace Detectives...2004 Ace Detectives...2005 Ace Detectives
2006 Ace Detectives...2007 Ace Detectives...2008 Ace Detectives...2009 Ace Detectives...2010 Ace Detectives
2011 Ace Detectives...2012 Ace Detectives...2013 Ace Detectives
AND NOW LADIES AND GENTLEMAN, WE PRESENT OUR ACE DETECTIVES FOR 2014:
January 1, 2014: Once again we began the year with an overnight New Years Eve show at DOUBLETREE HILTON in Tarrytown and with over 250 people in attendance, we celebrated with JOAN SULLIVAN as our first Ace Detective of 2014!>
January 11, 2014: There were real housewives of murder at THE VIEWS AT MT. FUJI in Hillburn but there was also a real housewife Ace Detective and her name was JACKIE - from Table 8!>
January 17, 2014: Actors kill for an Oscar nomination but at DILETTOS in Westbury, the sole nomination for Ace Detective was TERRY!>
January 25, 2014: Only the fast and the furious could attend FRANK CUPO's birthday but only EMILY ROSENTHAL could be the smart and insightful Ace Detective!>
February 1, 2014: If you're not sure how Super Bowl XLVIII and "the demon weed" are related, ask Ace Detective LAUREN MILLER because she has the connections at RICCARDO'S in Astoria!>
February 8, 2014: Getting ready for Valentine's Day was easy at THE VIEWS AT MT. FUJI in Hillburn when you have Ace Detetive CHERYL McGEE solving your murders!>
February 14, 2014: Chocolate for the love of your life and just desserts for the killer thanks to Ace Detective RICHARD ISLER at DILETTOS in Westbury!>
February 22, 2014: And a thanks to GINAMARIE ENTERTAINMENT for allowing us to perform a benefit show for Bergen Catholic High School!
February 28, 2014: Ace Detective JOSE SANCHEZ certainly came up with one answer to solve the current diplomatic issues with Russia at our Olympic show at MINERALS RESORT & SPA in Vernon, New Jersey!
March 1, 2014: With all the automated dialing at YOUNG ISRAEL OF WOODMERE, is it any wonder why DR. MARC SPERBER's wife, our Ace Detective, needs a vacation?
March 14, 2014: Ace Detective ANDREW BERGHAD was on the job at DILETTOS in Westbury!>
March 15, 2014: Erin Go Murder at THE VIEWS AT MT. FUJI in Hillburn but JOANNE THOMPSON was JoAnne Go Ace Detective!>
March 22, 2014: A surprise party for RONI SILVER at THE VIEWS AT MT. FUJI in Hillburn and a close shave for Ace Detective JOHN MORRISSEY!>
April 12, 2014: It was a game show not a murder mystery at our Game Show Night with SEVEN IN HEAVEN SINGLES EVENTS so there were no Ace Detectives but a lot of prizes, a lot of dancing and a lot of fun!
April 26, 2014: Returning to the scene of her crime (her wedding), KIMBERLY LAURENZA joined our family of Ace Detectives at THE VIEWS AT MT. FUJI in Hillburn!>
April 30, 2014: It was "Surprise" for RACHEL DIAMOND who celebrated her birthday and a surprise that her brother-in-law EZRIEL switched careers from medicine to Ace Detective!>
May 2, 2014: And at our special "Sock Hop" at DILETTOS in Westbury, JENNIFER GARCIA rocked as Ace Detective!>
May 23, 2014: We saluted our veterans this Memorial Day weekend with a special show at RICCARDO's in Astoria and we salute ELYSE BERGER as our Ace Detective!>
June 11, 2014: "Geoffreys Crime Fighters" were the winning Ace Detective team at a private corporate event at the Sheraton Mahwah in New Jersey!>
June 13, 2014: It was Friday the 13th and a Full Moon at DILETTOS in Westbury an Ace Detective!>
June 14, 2014: "Meeowww" - that was the Ace Detective calling card of PAULA MEO at THE VIEWS AT MT. FUJI in Hillburn!>
June 21, 2014: At this private event in Bernardsville, New Jersey, the cast was the Ace Detective!>
July 26, 2014: An IRS Disco Dance? It could only happen at DILETTOS in Westbury...just ask Ace Detective DIANE LUVERT!>
August 16, 2014: MICHAEL H. is not just an Ace Detective, he is the High School Homicide Hunter of THE VIEWS AT MT. FUJI in Hillburn!>
August 22, 2014: STEFANIE SOCCI, our first Ace Detective at our first show at WESR POINT CLUB in West Point!>
September 12, 2014: It was a family reunion at RICCARDO's in Astoria with TARIKAH as our Ace Detective!>
September 20, 2014: A wacky wedding reception at DILETTOS in Westbury but just another day, another murder solved, by Ace Detective ELIZABTH MCDONALD!>
September 27, 2014: So was it a birthday party for SUSAN QUIGLEY or was it an anniversary party for SUSAN & MARK (a/k/a Morticia & Gomez) at DILETTOS in Westbury? One thing for sure - everyone voted in CAIMIEN STEINER as Ace Detective!>
October 18, 2014: To the WEST BABYLON VOLUNTEER FIRE DEPARTMENT, he is known as "Big Daddy" but to us he is DOUGLAS MILLER Ace Detective!
October 25, 2014: Halloween at THE VIEWS AT MT. FUJI in Hillburn and MERIE SULLIVAN came disguised as our Ace Detective!>
---
Join Our Mailing List And Receive A Monthly Notice Of Our Upcoming Murder Mystery Dinner Theatre Shows And Other Events! Your Email Address Is Used By Us Only For Our Mailing List: It Is Not Shared Or Given To Anyone Else And Is Not Used For Any Other Purpose!
You Can Also Email Us Directly With Your Request To Subscribe At killingkompany@killingkompany.com And We Will Add You To One Of Our Email List Groups
---
AS SEEN ON METRO TV - THE GUIDE
AS SEEN ON FIOS 1 TV - PUSH PAUSE
AS SEEN ON CNN FN
AS SEEN ON FOR YOUR ISLAND





TO VIEW COPIES OF VARIOUS NEWSPAPER ARTICLES ON OUR MURDER MYSTERY DINNER THEATRE SHOWS, CLICK ON THIS LINK:
TO VIEW COPIES OF VARIOUS LETTERS OF REFERENCES FOR OUR PRIVATE MURDER MYSTERY DINNER THEATRE SHOWS, CLICK ON THIS LINK:
TO VIEW COPIES OF VARIOUS EMAILS FROM AUDIENCE MEMBERS OF OUR PUBLIC MURDER MYSTERY DINNER THEATRE SHOWS, CLICK ON THIS LINK:
---
JOIN US ON FACEBOOK
AND OUR FACEBOOK FAN SITE
---
FOLLOW US ON GOOGLE PLUS, LINKEDIN, TWITTER, BLOGGER, INSTAGRAM, TUMBLR
---
We're also a proud member of

---
TO GO TO THE NEXT PAGE:
KILLING KOMPANY KASTS & KASTING
TO GO TO ANY PAGE:
Home Page........Schedule of Shows........Reviews........Kontests
Ace Detectives........Kasts & Kasting Information........Private Events........Other Interactive Shows
Business Theater........Links



Web Author: The Killing Kompany
Copyright ©1996 - 2013 by Jon Avner and The Killing Kompany - THE KILLING KOMPANY is a trademark of THE KILLING KOMPANY MURDER MYSTERY DINNER SHOW, INC. - ALL RIGHTS RESERVED