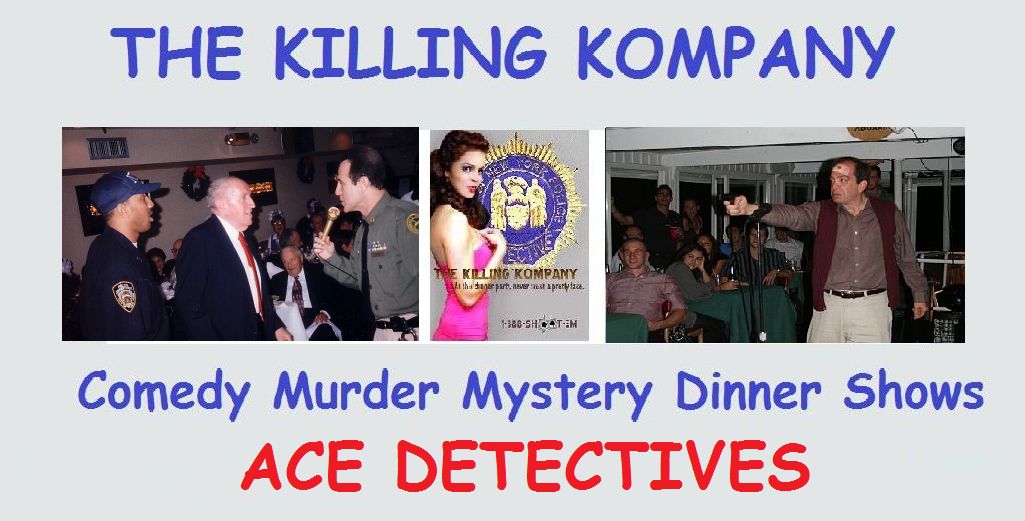 Since October of 1996, we began to list the names of our audience members who correctly guessed the murderer (or murderers) and won the prize for the show (and we apologize to all our earlier winners...but we didn't keep records of your names). To view our past Ace Detectives, just follow these links:
1996 Ace Detectives...1997 Ace Detectives...1998 Ace Detectives...1999 Ace Detectives...2000 Ace Detectives
2001 Ace Detectives...2002 Ace Detectives...2003 Ace Detectives...2004 Ace Detectives...2005 Ace Detectives
2006 Ace Detectives...2007 Ace Detectives...2008 Ace Detectives...2009 Ace Detectives...2010 Ace Detectives
2011 Ace Detectives...2012 Ace Detectives...2013 Ace Detectives...2014 Ace Detectives...2015 Ace Detectives...2016 Ace Detectives
AND NOW LADIES AND GENTLEMAN, WE PRESENT OUR ACE DETECTIVES FOR 2017:
January 1, 2017: Well, technically, at this year's New Years Eve show, we solved the murder at HOTEL INDIGO in Riverhead before midnight, but still BRIAN HENNELLY celebrated his 10th Anniversary by becoming our first 2017 Ace Detective of the year!>
January 13, 2017: She said she was "clueless" but everyone at the PLAINVIEW/OLD BETHPAGE PTA DISTRICT DINNER said that DAWN BANOME was Ace Detective material!>
January 14, 2017: Sometimes, you have one winner, sometimes you have two - and this night at THE VIEWS AT MT. FUJI in Hillburn, we had GLORIA ROSE and MICHELE N. as our Ace Detectives!>
January 27, 2017: Hooray for Hollywood and hooray for DONNA PAWLIKOWSKY, our Ace Detective from PALMER'S AMERICAN GRILLE in Farmingdale!>
February 11, 2017: And for Valentine's Day at RICCARDO'S IN ASTORIA, we love the fact that we had three Ace Detectives: Third Prize PHILLIP FERRIGON, Second Prize IRIS and Grand Prize RACHEL SKAVLR!>
February 18, 2017: Two Ace Detectives again? This time at THE VIEWS AT MT. FUJI in Hillburn, we have runner up VICTOR PIANO and grand prize RICH WEISBROT - we're gonna have to write more complicated plots!>
February 23, 2017: A night of beer, wine sangoria and great food at MARIO'S TUTTO BENE in Union, New Jersey but a better night for ALYSSA the Ace Detective!>
February 24, 2017: Mardi Gras time at PALMER'S AMERICAN GRILLE in Farmingdale and the killers flashed for justice at Ace Detective REID BERGLIN!>
March 2, 2017: A classic American murder at RUTH'S CHRIS STEAK HOUSE in Tarrytown but KEITH KERESEY is a classic American Ace Detective!>
March 4, 2017: "Death To Disco" they shouted at PAMELA'S ON THE HUDSON in Newburgh and "Death To Killers" Ace Detective ALLIE D shouted!>
March 11, 2017: A St. Patrick's Day party at THE VIEWS AT MT. FUJI in Hillburn brought the luck of the Irish to Ace Detective EILEEN FARRELL!>
March 12, 2017: Well we may have lost an hour of sleep at RUTH'S CHRIS STEAK HOUSE in Princeton but Daylight Saving Time did not stop LLOYD STRAUS from becoming our latest Ace Detective!>
March 16, 2017: As a lawyer, she fights for you at SCHWARTZAPFEL LAWYERS P.C. and as our Ace Detective, NICOLE KIM fights crime for us!
March 24, 2017: So did murder take a holiday at PALMER'S AMERICAN GRILLE in Farmingdale? Of course not, but MARISSA took home an Ace Detective!>
March 26, 2017: And murder took a 360 degree turn at 360 TURN IT UP ENTERTAINMENT and Ace Detective IRENE HAMILDON took a 360 degree turn as our winner!
April 1, 2017: With SEVEN IN HEAVEN EVENTS, it was no April Fools prank that LINDA SCHWARTZ is now an Ace Detective!
April 7, 2017: A night at ATLANTIS BANQUETS & EVENTS in Riverhead, a night of murder...and a night for Ace Detective STEPHANIE MIELKE!>
April 8, 2017: The dog days of murder ended at RECYCLED PAWS RESCUE with MIKE CURLEY as our "adoptable" Ace Detective!
April 21, 2017: The Tax Man cometh to PALMER'S AMERICAN GRILLE in Farmingdale but Nurse and Ace Detective JOANN got her deductions!>
April 22, 2017: It was a marriage that couldn't last at THE VIEWS AT MT. FUJI in Hillburn especially with ANDRES ARMESTO as Best Man Ace Detective!>
April 28, 2017: The beautiful views at the WEST POINT CLUB helped ROSEANNE (Roseanne - a - danna) become our new Ace Detective!>
April 29, 2017: It was such a wonderful celebration at TEMPLE CHAVERIM, not just for the Cantor and the Principal but for Ace Detective SANDY BEBERMAN!
May 5, 2017: A Cinco De Mayo celebration at the HOTEL INDIGO in Riverhead with three Ace Detectives: LAUREN CAMPBELL, JOHN VENZIA and TJ MACCHIAROLI!>
May 11, 2017: Here is the best answer we ever got: from Ace Detective ALEX at MARIO'S TUTTE BENE in Union:"WHO DID IT? The Cop WHY? Because my wife said so and I want a happy marriage so I always agree with my wife. We have been married under a year so I haven't yet become jaded to the point where I will disagree or cause arguments."!>
Join Our Mailing List And Receive A Monthly Notice Of Our Upcoming Murder Mystery Dinner Theatre Shows And Other Events! Your Email Address Is Used By Us Only For Our Mailing List: It Is Not Shared Or Given To Anyone Else And Is Not Used For Any Other Purpose!
You Can Also Email Us Directly With Your Request To Subscribe At killingkompany@killingkompany.com And We Will Add You To One Of Our Email List Groups
---
AS SEEN ON METRO TV - THE GUIDE
AS SEEN ON FIOS 1 TV - PUSH PAUSE
AS SEEN ON CNN FN
AS SEEN ON FOR YOUR ISLAND






TO VIEW COPIES OF VARIOUS NEWSPAPER ARTICLES ON OUR MURDER MYSTERY DINNER THEATRE SHOWS, CLICK ON THIS LINK:
TO VIEW COPIES OF VARIOUS LETTERS OF REFERENCES FOR OUR PRIVATE MURDER MYSTERY DINNER THEATRE SHOWS, CLICK ON THIS LINK:
TO VIEW COPIES OF VARIOUS EMAILS FROM AUDIENCE MEMBERS OF OUR PUBLIC MURDER MYSTERY DINNER THEATRE SHOWS, CLICK ON THIS LINK:
---
JOIN US ON FACEBOOK
AND OUR FACEBOOK FAN SITE
---
FOLLOW US ON GOOGLE PLUS, LINKEDIN, TWITTER, BLOGGER, INSTAGRAM, TUMBLR
---
We're also a proud member of

---
TO GO TO THE NEXT PAGE:
KILLING KOMPANY KASTS & KASTING
TO GO TO ANY PAGE:
Home Page........Schedule of Shows........Reviews........Kontests
Ace Detectives........Kasts & Kasting Information........Private Events........Other Interactive Shows
Business Theater........Links



Web Author: The Killing Kompany
Copyright 1996 - 2017 by Jon Avner and The Killing Kompany - THE KILLING KOMPANY is a trademark of THE KILLING KOMPANY MURDER MYSTERY DINNER SHOW, INC. - ALL RIGHTS RESERVED