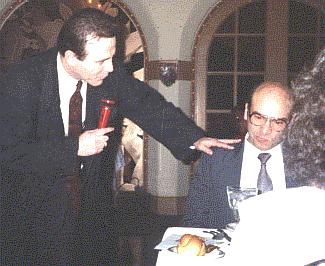 THE KILLING KOMPANY is headed by New York actor Jon Avner. Jon is one of the leading actors in interactive audience participation shows performing regularly with THE KILLING KOMPANY COMEDY MURDER DINNER SHOWS. A member of The Actors Studio, he has appeared in many films (HBO's QUALITY OF MERCY co-starring Mary-Louise Parker, Showtime's DIRT, Sundance's GIRL IN THE WATERMELON, QUEENIE IN LOVE, etc.), televisions shows (GUIDING LIGHT, AS THE WORLD TURNS, FTL NEWSFEED, USA UP ALL NIGHT WITH RHONDA SHEAR, etc.), commercials, radio and print and his voice can be heard in many commercials, as well as such animes as BERSERK, GOKUSUN, DARKSIDE BLUES, THE PEACOCK KING, to name a few, and as General Di Ravello in JUST CAUSE 3. As an award winning writer, Jon is a member of The Dramatists Guild and his works have been presented at theatres all over, as well as the hundreds of comedy dinner shows and game shows he has written and starred in around the country. If you'd like more information you can visit his web site: Link to JON AVNER
For the rest of the cast of THE KILLING KOMPANY, as actors, they have appeared on Broadway and on stages all over the country, in your favorite films and TV shows, on radio and in print. So the person sitting next to you just may be that face you saw on TV. Or maybe that was the one you liked in the movies.
Some of our casts included:
CONNIE BRITTON, who starred in THE BROTHERS McMULLEN and now in ABC's SPIN CITY.
FRANC LUZ, best known to audiences for his two year role as Tony Lobu on ONE LIFE TO LIVE, as a regular on such TV shows as RYAN'S HOPE, FACTS OF LIFE, KATE AND ALLIE, AS THE WORLD TURNS and GUIDING LIGHT, as a guest star on such TV shows as THE DOCTORS (emmy nomination), MATLOCK, LA LAW, BAYWATCH, REMINGTON STEELE, JAG, WALKER TEXAS RANGER, STAR TREK: NEXT GENERATION, on Broadway in CITY OF ANGELS, WHOOPEE, LITTLE SHOP OF HORRORS (Drama Desk nomination for Best Actor) and on film in WHEN HARRY MET SALLY.
PRUDENCE HOLMES, who appeared on Broadway in INHERIT THE WIND, in TV shows from DAVY CROCKETT to CHARLIE'S ANGELS, in films such as KINGPIN, EXORCIST II and as Sister Mary Paul in SISTER ACT I & II.
SUSAN ASTON, who starred on Broadway in STREETCAR NAMED DESIRE.
SUSAN MITCHELL, who starred in the films Q&A and THE ADDICTION.
LEE DOYLE, who starred on Broadway in THE THREE PENNY OPERA and on film in THE BOSTONIANS (and you just saw him as Santa Claus in the Christmas VICTORIA'S SECRETS commercials).
CLARE PECK, who appeared in SPLASH and who guest starred on such TV shows as MURPHY BROWN, HARDCASTLE & McCORMICK and THE A -TEAM.
KRISTIN HUFFMAN, who starred in the original world premiere of JEKYLL AND HYDE, the european tour of PHANTOM and who is a former Miss Ohio and the talent winner and runner up to Miss America.
MARK ENIS, who starred on Broadway in MUSICAL COMEDY MURDERS of 1940 and in the national tour of GRAND HOTEL
JOHN MARASIGAN, who danced his way into the hearts of millions in the Disney World premiere of the stage version of HERCULES
HEATHER BERMAN, a former Radio City Rockette who starred in the european tour of OKLAHOMA
VALORIE NICCORE, who starred on TV in GUIDING LIGHT.
STUART RUDIN, who appeared in such films as PRIVATE PARTS, SILENCE OF THE LAMBS and THE PROFESSIONAL
BOB ADER, who appeared on Broadway in THE KING AND I and on TV in UNSOLVED MYSTERIES and A CURRENT AFFAIR.
SAMI SPOLAN, who appeared in the critically acclaimed Off-Broadway hit LOVE LETTERS TO HITLER.
LAUREN DeNIRO-PIPHER, who was the voice of Nanette in Nickelodean's KABLAM.
RACHEL WINFREE, who appeared in such films as HOW THE GRINCH STOLE CHRISTMAS and THE THIRTEENTH FLOOR, on TV in ROSWELL, X-FILES and MARRIED WITH CHILDREN.
DARIN CHUMBLEY, who appeared in the national and international tours of GYPSY, 42ND STREET and BEST LITTLE WHOREHOUSE IN TEXAS.
JOHN NELSON, who appeared on ALLY McBEAL, BOSTON PUBLIC, SATURDAY NIGHT LIVE, NEW YORK UNDERCOVER and is a professional rapper.
HILLARY KLEIN, who appeared in BEVERLY HILLS 90210.
JULIE CARPENTER, who appeared in the film JEFFREY and on GUIDING LIGHT.
STACIE LINARDOS, who appeared in the BBC production of THE MOTHER with Anne Bancroft.
MARTINA LOTUN, who hails from Sweden where she appeared in DEATH OF A SALESMAN.
RANDY STERN, who is the lead singer of the New York City rock group THE NERVE.
CARL GARRISON, who tours in his one man musical and dance show ODE TO BILLY ECKSTINE.
LISA PICKELL, who appeared on COSBY, LAW AND ORDER and the film IN & OUT.
JOHNNY TAMMARO, who just appeared on Broadway in KENNY ROGER'S CHRISTMAS SHOW and who tours in TONY AND TINA'S WEDDING.
CHRISTINE TRACY, who appeared in such plays as RAISIN IN THE SUN and FOR COLORED GIRLS.
SAL TRENTO, who was one of the panicked press people in GODZILLA.
JUDY DODD, who appeared on Broadway in FIDDLER ON THE ROOF and on the TV soap ANOTHER WORLD.
NANNETTE DEASY, who has appeared Off-Broadway and Off-Off Broadway with such theatres as LaMaMa Etc., Ensemble Studio Theatre, New York Theatre Workshop and Immigrants Theatre Project. She can also be seen in various television, radio and film productions, such as "I'm Not Rappaport," "The Mirror Has Two Faces," and "The First Wives Club." Her radio performance as Portia in "The Merchant of Venice" can be heard at the Museum of Television and Radio.
CINDY KOSTELLO, who toured in the national production of ANNIE GET YOUR GUN and is now with TONY N TINA'S WEDDING.
JEFFREY SPOLAN, who has appeared on TV in LOVE OF LIFE and TEXAS.
CAREY STEINER, who is the Artistic Director of The Actors Recovery Theatre.
RICK CASALE, who has appeared as a cop in such movies as CITY HALL, in such TV shows as SWIFT JUSTICE and NEW YORK UNDERCOVER
SARAH RHOADES, who appeared Off-Off Broadway in DENIAL and is presently studying theatre at Fordham University at Lincoln Center in New York City.
BOB ADRIAN, who appeared in such films as JUNGLE FEVER and TWELVE MONKEYS.
SUSAN ROMANOFF, who has appeared on TV in ANOTHER WORLD and ALL MY CHILDREN.
LAURA WITWER, who has appeared on TV on NICKELODEON and MTV and is a professional aerialist.
ALISON GORDY, who has appeared in such films as JACOB'S LADDER and MARRIED TO THE MOB.
MARILYN SPANIER, who has appeared in such films as GIRL INTERRUPTED.
CHRISTIE LYNN DEVOE, who has sung on stages across the country and who appears with the NYC improvisional group GROUND ZERO.
SUSIN AGIN, who appeared in the Off-Broadway musical JAYSON and who many times has sung The National Anthem at Shea Stadium for the New York Mets.
RICHARD DUVA, who has appeared in several episodes of LAW & ORDER, on NEW YORK UNDERCOVER as well as Off-Broadway and on tour in TONY N' TINA'S WEDDING.
HEATHER MORRIS, who has appeared on TV in COSBY and on AMERICA'S FUNNIEST PEOPLE and has danced on stages around the world.
MILLICENT HOWARD, a model and commercial actress.
JOHN CARLTON, who has appeared on THIRD WATCH and SEX AND THE CITY.
KRISTIN PATTI, who has appeared in such musicals as DAMN YANKEES and GREASE.
SHERYL MATTHYS, who was a TV Reporter for WLKY, WNDU and WLFI.
CHRIS LUCAS, who appeared in SPIN CITY and AUTUMN IN NEW YORK.
AUDREY AMY, who has been featured at CAROLINE'S COMEDY CLUB and NEW YORK COMEDY CLUB.
JENNYLIND PARIS, who has appeared in musicals around the country.
PAUL COUGHLAN, who appeared with Adrien Brody in TEN PENNY.
MANDY FEILER, who has appeared in musicals and operas around the country.
DOUGLAS DICKERMAN, who appeared with Peter Boyle in LUNCH BREAK.
JESSICA MORALES, who has appeared in print and commercials.
PAUL TEAL, who has been appearing on CW's ONE TREE HILL.
KAITLIN MONTE, who tours regularly with the USO's "Liberty Bells" and was a runner up for "Miss Florida".
JENNY LEE MITCHELL, who appeared in the world tour of FAME and performs regularly with Theater The's The Renaldo The Ensemble singing and playing the clarinet, where she also serves as co-artistic director.
JONATHAN ROTH, who has appeared in musicals from ANNIE to GREASE.
RORI NOGEE, who has starred in musicals around the country including RENT.
DOMINIC MARCUS, who has appeared on film in THE THOMAS CROWN AFFAIR and on TV in LAW & ORDER, RESCUE ME and 100 CENTER STREET.
Interested in working with us? We are looking for professional actors only! If you are a professional actor, we are looking for all types and ages to cast in our shows. We are especially interested in those professional actors with singing, improv, stage combat, comedy and any other special skills as well as actors with special uniforms. Look for our casting notices in BACKSTAGE and other casting services. You may also email us with a link to a site which has your P&R, Video Reel and Voice Reel - BUT DO NOT UNDER ANY CIRCUMSTANCES EMAIL IT AS OUR EMAIL SERVER CANNOT HANDLE LARGE ATTACHMENTS (And please no phone calls - we cannot return calls regarding casting). PLEASE ALSO NOTE: if you are currently working with another murder mystery company, please let them know that you are also submiting to us....it is OK that you work with other companies - you're actors - but some murder mystery companies get upset about this (we don't).
And for those of you interested in starting your own Killing Kompany...well, actually, it's not that easy. In fact, we don't license out our scripts (and we have hundreds of different ones) to every group who wants to put on a show. Our many years of experience with murder mystery dinner shows has been this - professional productions are best left to professional companies. So we are not really looking for local actors, directors and producers to set up local KILLING KOMPANY groups. However, if you are a local, community, amateur, non-professional or professional theatre group - we may be able to work with you by having one or more of our actors come down to do the show with your group. Call us with your interest at 1 888 SHOOT-EM or 212 772-2590 or Email us at killingkompany@killingkompany.com
---
TO GO TO THE NEXT PAGE:
TO GO TO ANY PAGE:
Home Page........Schedule of Shows........Reviews........Ace Detectives........Kasts & Kasting Information........Private Events........Other Interactive Shows
Business Theater........Links



Web Author: The Killing Kompany
Copyright 1996 - 2018 by Jon Avner and The Killing Kompany - THE KILLING KOMPANY is a trademark of THE KILLING KOMPANY MURDER MYSTERY DINNER SHOW, INC. - ALL RIGHTS RESERVED