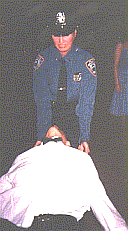 Make your next event a real thriller with THE KILLING KOMPANY!
IMAGINE ! A Shot In The Dark . Laughter From The Rafters. Diabolical Deeds. Romance. Humor. AND YOU COULD BE THE GUILTY PARTY! With THE KILLING KOMPANY, you can be part of the show and the number one criminal may be seated right next to you.
For over 23 years, we have performed throughout the country, from coast to coast, for major corporations, casinos, resorts, cruise ships, birthdays, fund-raisers, anniversaries, rehearsal dinners, churches, temples, universities, high schools, elementary schools, bar/bat mitzvahs, sweet sixteens, childrens parties...you name it ! What makes us stand out from the others is that we create a new show each time. That's right, each show is different, having been written and created for that performance only. And we can create shows based upon all sorts of themes, but all our shows have this in common: with each show, professional Broadway, TV and film actors are mixed in with the audience and evidence is created in which the audience is implicated as suspects. And prizes are awarded to the winner who can solve the crime!
Below are links to view videos of our TV appearances on CNN (which will give you an idea of what our private shows are like) and on MSG Networks - Metro TV and For Your Island (which will give you an idea of what our open to the public shows are like). Also you'll find links to copies of various newspaper articles and letters of references.
Our prices for private events are based on the number of actors you hire and start at approximately $1000. We can also create a mystery show for you, with all the excitement of our regular shows but with no stage deaths. If you need any further information, call us at 1 888 SHOOT-EM or 212 772-2590 or Email us at killingkompany@killingkompany.com
---
AS SEEN ON METRO TV - THE GUIDE
AS SEEN ON FIOS 1 TV - PUSH PAUSE
AS SEEN ON CNN FN
AS SEEN ON FOR YOUR ISLAND






TO VIEW COPIES OF VARIOUS NEWSPAPER ARTICLES ON OUR MURDER MYSTERY DINNER THEATRE SHOWS, CLICK ON THIS LINK:
TO VIEW COPIES OF VARIOUS LETTERS OF REFERENCES FOR OUR PRIVATE MURDER MYSTERY DINNER THEATRE SHOWS, CLICK ON THIS LINK:
TO VIEW COPIES OF VARIOUS EMAILS FROM AUDIENCE MEMBERS OF OUR PUBLIC MURDER MYSTERY DINNER THEATRE SHOWS, CLICK ON THIS LINK:
---
JOIN US ON FACEBOOK

Find out what our actors, venues, audience members, and other fans and friends are up to! Or join our Facebook fan site



---
LINK UP TO THEM ON LINKEDIN

---
FOLLOW US ON OUR BLOG




---
TO GO TO THE NEXT PAGE:
TO GO TO ANY PAGE:
Home Page........Schedule of Shows........Reviews........Ace Detectives........Kasts & Kasting Information........Private Events........Other Interactive Shows

Business Theater........Links


Web Author: The Killing Kompany

Copyright 1996 - 2018 by Jon Avner and The Killing Kompany - THE KILLING KOMPANY is a trademark of THE KILLING KOMPANY MURDER MYSTERY DINNER SHOW, INC. - ALL RIGHTS RESERVED