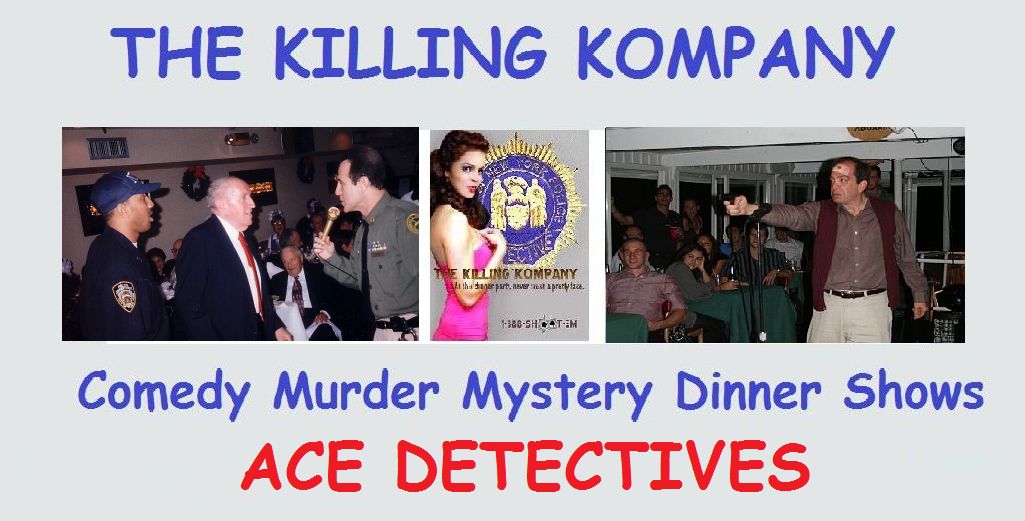 LADIES AND GENTLEMAN, WE PRESENT OUR ACE DETECTIVES FOR 1997:
January 17, 1997: MICHELE DEGIORGIO at the White House in Queens, and the fact that she left the most luscious lip print on her solution card didn't influence me in the slightest. And a special mention to DARIO COSTA who fell in love with the killer...even after she was shot and killed, he still gave her his phone number.
January 18, 1997: Let's hear it for the detective team of LAUREN MAYER, RACHEL EVANGLESTA, STEPHANIE ITZKOWITZ, DANIELLA SHATZMAN, LIZA MIRIUM who beat out the others at someone's 12th birthday.
January 25, 1997: We decided to give the Ace Detective award to VIOLA RUSSELL from the CRYDER HOUSE CO-OP in Beechurst, NY, not only because her solution came closest, but because she was the only woman that night who didn't work at NINA SANDS' brothel.
February 15, 1997: PAT HOPKINS at PIER 92 in the Rockaways; she didn't get it exactly, but then, this was her fourth time at one of our shows so she's starting to catch on.
March 7, 1997: PATRICIA MEICHSNER at NIEDERSTEIN'S...she was so quiet that night and it turns out that out of over 170 guests, she was the only one who got it exactly...wait a second, didn't the groom say he was having an affair with her?
March 15, 1997: Congratulations to the members of THE GOLEM TEAM of YOUNG ISRAEL OF HILLCREST...this group of 9 to 12 year old boys solved every aspect of the murder. The best solution we ever had!
March 20,1997: But when we did our mini murder mystery at BARNES & NOBLE BOOKSELLERS, no one got it so we gave our Ace Detective award to MARION ROSEN for the worst solution we ever had!
March 30,1997: DOV LEDERER came closest at ARI SCHERTZ' 30th birthday party and would have gotten it 100% correct if he didn't listen to Ari's older brother - hey Dov, next time, go with your instincts!
April 11, 1997: There was a lot of excitement that night at the WHITE HOUSE (no we didn't stage the EMS to arrive when one of the patrons got ill) - maybe that's why more than half of you were so close but only MILLIE AULETTA named both killers. Atta girl Millie!
April 12, 1997: And congratulations to VALERIE WINGO, our Ace Detective from the EPISCOPAL CHARITIES APPEAL, and thanks to the ST. STEPHEN'S EPSICOPAL CHURCH WOMEN, who are some of the nicest people we ever met!
May 1, 1997: Well no one from HOECHST MARION ROUSSEL came even close...the most popular answer was that the murder victim was also the murderer. But hey, HMR makes great drugs!
May 2, 1997: It must have been ladies night at CHELSEA SUPPER CLUB (only 2 men were there) and congrats to our winner SHEILA FAY!
May 21, 1997: And how about some applause for our winner BOB POLINSKY from NOVARTIS...and boy those people in the Clinical Pharmacology Department sure know how to dance!
May 25, 1997: Congratulations to the lovely young ladies of the COLUMBO team - they correctly identified the murderer at TALI & MICHAL KONIGSBERG's Bat Mitzvah!
May 31, 1997: CHARLIE KEMP was our super sleuth at the Sock Hop for TEMPLE SHOLOM - atta boy Charlie!
June 4, 1997: Maybe it's because she watches NYPD BLUE faithfully but DIANA DeSANTO from PS 193, PTA was our ace detective for the night!
June 7, 1997: At first RAY HOYE couldn't figure out anything, even though the gun was fired 5 feet away from him..but sure enough he thought it out and figured out the killer at PIER 92 in the Rockaways!
June 21, 1997: And at MALLORY FRIEDMAN's Bat Mitzvah, the winning team was......SCOOBY DOO?!
June 27, 1997: When MARK O'CONNOR found out he was the winner at NIEDERSTEIN'S, the first words out of his mouth was "All right! Now who do I see for my two free dinners."....The guy has class!
July 9, 1997: It was big night for JOAN METZGER at the 60th Anniversary of the LOCUST GROVE CIVIC ASSOCIATION at ROMA VIEW; not only did she get to dance a special dance with her future husband-to-be, but she was our grand prize super sleuth winner!
July 11, 1997: And at the Beach Party Murder at PIER 92 in the Rockaways, our super sleuth was, Mr. Wiseguy himself, JIM PROUT!
July 25, 1997: OK, so maybe he is a disgruntled postal worker who thinks he's Lamont Cranston but at the Disco Murder at the WHITE HOUSE in Whitestone, RAY LENT was also our Ace Detective for the evening!
August 22, 1997: Not only did LORRAINE OTT correctly guess the winner at PIER 92 in the Rockaways, not only did she win dinner for two at PIER 92, but she won a T Shirt...Wow!
September 6, 1997: And at ST. BENEDICT CHURCH in Jamaica, Queens, our winner was JOY SIMPKINS, although we have to ask: why did everyone think it was Father Paul?
September 17, 1997: Oh what a wild night it was on the RIVER ROSE with CITIBANK PRIVATE BANK, so wild that KEN GEE was our Ace Detective; and when he accepted his award, Ken was heard to have muttered: "How do we MAP this process?"
September 26, 1997: And what a crazy family reunion it was at NIEDERSTEIN'S; but not too crazy for KATHY KEHOE - she was sane enough that night to win the Ace Detective award.
September 30, 1997: What a wonderful night for murder as STATE FARM INSURANCE found out the true meaning of "death benefits" at the PRINCESS ROYALE RESORT in Ocean City, Maryland; and the winning table was....(drumroll please)........THE SHAFT TABLE!
October 4, 1997: Not only is he a great editor and reporter for a great metropolitan newspaper, but tonight ROBERT MANAS was also our Ace Detective at PIER 92!
October 9, 1997: Boy they really can dance at JOHNSON & JOHNSON and PAUL LAWRENCE proved he's not as dumb as he looks...because PAUL was our Ace Detective!
October 24, 1997: The vampires were out at CHELSEA SUPPER CLUB that night but they didn't scare SCOTT STELLOH who figured out who the real vampire was!
October 31, 1997: She claimed to be a "criminal lawyer" but BOBBI NEAGLE was just beginning her lucky day when she became our Ace Detective at CASINO AZTAR in Evansville, Indiana, where Every Day's A Party!
November 4, 1997: We can't believe it - out of the 100 or so MERRILL LYNCH sales and marketing people at the HYATT REGENCY PRINCETON, no one was even close so we just gave our award to the table that came up with the worst answer - and boy it was so bad we can't even repeat it here!
November 6, 1997: Congratulations to all the winners of the Technical Achievement Awards for WORTHINGTON INDUSTRIES in Columbus, Ohio and congratulations to all the Ace Detectives at Table 31...THE SHERLOCKS!"
November 8, 1997: It was a night of mayhem at NORTH CHANNEL YACHT CLUB but boatsman STAN TUREK figured out who the killer was - and now he's Ace Detective of the high seas!
November 15, 1997: It was supposed to be a benefit for the MONTCLAIR NEW JERSEY YMCA SWIM TEAM but that night, TIM WRIGHT became Mr. Right when he became our Ace Detective at THE GONDOLA in Nutley, New Jersey!
November 21, 1997: Another wacky wedding took place at ROMA VIEW in Howard Beach, and on this night, ANTHONY GIORDANO not only helped raise money for ST. JUDE'S CHILDREN HOSPITAL, but he solved the murder!
December 5, 1997: NANCY HILL became King Of The Hill at the Godfather's Christmas Party at THE WHITE HOUSE - and as our Ace Detective for that night, she won her own police department!
December 8, 1997: She's not only the Chief Financial Officer at SPP HAMBRO & CO, but tonight at MARYLOU'S RESTAURANT, AMY S. LAZARUS also became their Ace Detective!
December 10, 1997: Wow! We had a tie! VINNA GARCIA and KELLY O'SULLIVAN from PS 183 were our Ace Detectives at THE BEACH CLUB in the Rockaways!
---
TO VIEW OUR ACE DETECTIVES FROM OTHER YEARS, JUST FOLLOW THESE LINKS:
1996 Ace Detectives...1997 Ace Detectives...1998 Ace Detectives...1999 Ace Detectives...2000 Ace Detectives
2001 Ace Detectives...2002 Ace Detectives...2003 Ace Detectives...2004 Ace Detectives...2005 Ace Detectives
2006 Ace Detectives...2007 Ace Detectives...2008 Ace Detectives...2009 Ace Detectives...2010 Ace Detectives
2011 Ace Detectives...2012 Ace Detectives...2013 Ace Detectives...2014 Ace Detectives...2015 Ace Detectives
2016 Ace Detectives...2017 Ace Detectives
---
TO GO TO THE NEXT PAGE:
TO GO TO ANY PAGE:
Home Page........Schedule of Shows........Reviews........Ace Detectives........Kasts & Kasting Information........Private Events........Other Interactive Shows
Business Theater........Links



Web Author: The Killing Kompany
Copyright 1996 - 2018 by Jon Avner and The Killing Kompany - THE KILLING KOMPANY is a trademark of THE KILLING KOMPANY MURDER MYSTERY DINNER SHOW, INC. - ALL RIGHTS RESERVED