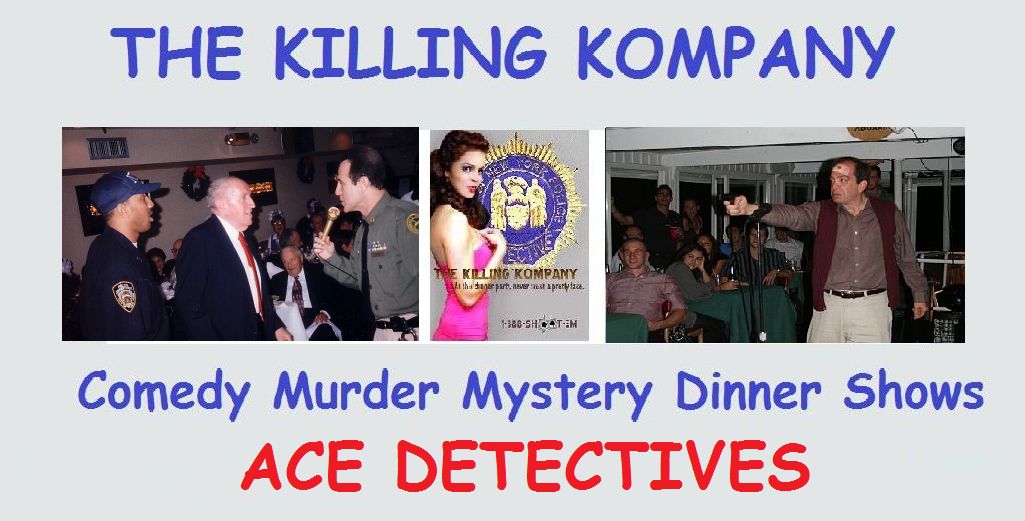 LADIES AND GENTLEMAN, WE PRESENT OUR ACE DETECTIVES FOR 2005:
January 1, 2005: The new year began with a return to THE WHITE HOUSE in Whitestone and a return welcome to Ace Detective THOMAS DALY!
January 13, 2005: We all knew that READERS DIGEST is the world's largest selling magazine but who knew that BRENDAN CALLAGHAN was the world's leading Ace Detective!
January 15, 2005: At the Malt Shop Murders at THE THAYER HOTEL in West Point, we congratulated Ace Detective JIM WENDT with an extra scoop of ice cream!
January 17, 2005: Who else could share the spotlight with ERIKA O'BRIEN on her Sweet 16 but Ace Detective EMILY HOFFMAN!
January 21, 2005: How sad...NIEDERSTEIN'S in Middle Village is closing: this was our last show after 8 years and we say thanks to all who attended our shows there and to all the staff at NIEDERSTEIN'S. But on the brighter side, ARNOLD LAYTON made Ace Detective!
January 23, 2005: Thanks to EXPRESSWAY MUSIC, not even a blizzard could stop CHLOE IFRAH's Bat Mitzvah and not even a murder could stop JAKE BERGER from becoming an Ace Detective!
January 27, 2005: The students at PASADENA ELEMENTARY SCHOOL, STRATFORD ROAD ELEMENTARY SCHOOL & PLAINVIEW-OLD BETHPAGE MIDDLE SCHOOL are highly educated but when it comes to the parents....only MICHELE HAIMES became Ace Detective!
January 28, 2005: All Super Bowl bets were temporaily suspended at THE BEACH CLUB in the Rockaways due to the fine crime solving work of Ace Detective ARLENE FLYNN!
January 29, 2005: NICOLE O'SHAUGNNESSY didn't want beads at the Mardi Gras party at THE VIEWS AT MT. FUJI, she wanted to drink but she wound up to be Ace Detective!
February 1, 2005: At FITCH RATINGS, a new report was issued out on JAMES LATONA and he is now an Ace Detective!
February 5, 2005: Thankfully, not all weddings in New Milford, NJ are like the one we celebrated for the PTO at BERKLEY STREET SCHOOL, and we owe it all to Ace Detective DAN DeSENA!
February 11, 2005: For PAPA RAZZI in Westbury, we send all our Valentine love to Ace Detective BOB SYMONDS!
February 12, 2005: And at THE THAYER HOTEL in West Point, there's a special place in our heart for Ace Detective BETH PELUSO!
February 13, 2005: But at MARJEANE CATERERS in Lansdale, PA, our funny Valentine turned to our bloody Valentine, thanks to Ace Detective MICHAEL ROCCO!
February 16, 2005: Here's a group at MATTLIN MIDDLE SCHOOL in Plainview that nobody bullys around: our team of Ace Detectives ELIANA, ALLISON, MOHAMMAD & AMY!
February 19, 2005: For our first Disco night at THE CLARKSBURG INN in Clarksburg, NJ, we all got to boogie with Ace Detective ROB LICHOWID!
February 24, 2005: In Pennsylvania, Delaware and Maryland you can get "Good Stuff Cheap" at OLLIE'S BARGAIN OUTLETS, but you can't get good Ace Detectives cheap - just ask BOB MOORE!
February 25, 2005: There were several nominations for Best Ace Detective at RICCARDO'S in Astoria.....the envelope please....and the winner is.....RAMON ESPAILLANT!
February 26, 2005: Hurray for Hollywood, Hurray for THE VIEWS AT MT. FUJI in Hillburn, Hurray for Ace Detective MITCH SOLOMON!
March 4, 2005: We had live auctions, raffles, silent auctions all sponsored by the ALLENDALE FOUNDATION FOR EDUCATION EXCELLENCE to help raise money for the ALLENDALE SCHOOL SYSTEM, but no real winner so we auctioned off our Ace Detective award to Soccer Mom LYNN BARSAMIAN who truly belives her son should play more than 4 minutes of soccer per game!
March 5, 2005: Will the St Joseph's Council of the KNIGHTS OF COLUMBUS in Keyport, New Jersey ever have another wedding at their hall? Just ask Ace Detective Eileen Cassidy!
March 11, 2005: Watch out criminals - when you go to PIER ONE in Bayville, Ace Detective CATHLEEN CARTY will get your lucky charms!
March 12, 2005: And at THE THAYER HOTEL at West Point, there was no pot of gold for killers with Ace Detective SUSAN KIESK on the job!
March 13, 2005: Maybe the heat was off at RESURRECTION SCHOOL in Brooklyn, but the heat was on with Ace Detective SOPHIA TSOROROS!
March 15, 2005: Congratulations to all the winners of the HENRY SCHEIN INC. 2005 Medical Telesales Awards Ceremony in Reno, Nevada - that's right, we can even do an award ceremony and even though it wasn't a murder mystery, all the winners are Ace Detectives in our book!
March 18, 2005: Killers never graduate at THE WHITE HOUSE in Whitestone because of Ace Detective THERESEA DESTEFANO!
March 24, 2005: We reinvented another award night for HENRY SCHEIN INC. 2005 Medical Telesales Awards Ceremony in New York and again, all the winners are Ace Detectives in our book!
April 1, 2005: It was no April Fools joke at THE BEACH CLUB in the Rockaways that the real Ace Detective was not BRIAN WYGAND but his wife HOPE!
April 2, 2005: Yes the Greeks had a word for it....MURDER but at THE VIEWS AT MT FUJI in Hilburn, we have two words for KATHY & BETH CIPOLETTI - Ace Detectives!
April 3, 2005: The auction gavel fell on the killers at the fundraiser for NEW MILFORD HIGH SCHOOL thanks to Ace Detective CHRIS LIVINGSTONE!
April 5, 2005: Gaining Early Awareness & Readiness For Undergraduate Programs is the job of NY GEAR UP but crazed criminals better "gear up" when Ace Detective MICHELLE ALLEVATO is ready to map their future!
April 7, 2005: Phase 1 of Project Mustang is now complete at TD WATERHOUSE and we (and Odette) know that Phase 2 will be a breeze with Ace Detective JIM BASEDOW!
April 9, 2005: Even cowgirls get the blues at the ST. AMBROSE CHAPTER of the KNIGHTS OF COLUMBUS but CAROL has such a silly solution that she is now an Ace Detective!
April 15, 2005: Brooklyn is officially safe now thanks to Council 126 of the KNIGHTS OF COLUMBUS and Ace Detective JIM FITZSIMMONS!
April 16, 2005: Wow - those High School Reunions can be murder at THE THAYER HOTEL in West Point but with Ace Detective JOJO TIERNEY on hand, the Point is learning!
April 22, 2005: It's impossible for killers to double cross the moms at the 40th anniversary of theNEW YORK STATE ORGANIZATION OF MOTHERS OF TWINS CLUBS when Ace Detective SUZY NEWKIRK is on hand for double duty!
April 23, 2005: At ST. RITA'S ELEMENTARY SCHOOL in Staten Island, he's known as Rup but with us he's known as Ace Detective DWARKA RUPNARAIN!
May 2, 2005: Whether he's Dr. Phil or Dr. Demento, from now on the COUNCIL OF REFORMED CHARITIES have to call PHIL ELLIS Ace Detective!
May 13, 2005: What kind of swizzle sticks turned up at the Senior Prom at PAPA RAZZI? Ask Ace Detective GERARD MCINTEE!
May 14, 2005: At THE UNITED METHODIST CHURCH OF MERRICK, we discovered that DEBBIE SCHIEFFER is the one Ace Detective to have when you're having more than one!
May 17, 2005: Two, Four, Six, Eight - who do we appreciate as Ace Detective for HENRY SCHEIN INC.......LILIBETH, LILIBETH...Yea LILIBETH VANARKEN!
May 19, 2005: They build strong kids, strong families and strong communities at the YMCA OF LONG ISLAND CITY, but last night at RICCARDO'S in Astoria we found out that they also build strong Ace Detectives like JESSICA MILAD!
May 22, 2005: We all "roared" for the NEWBURGH LIONS CLUB, and then we "meowed" for Ace Detective LINDZ BARTH!
May 25, 2005: As further proof of the Higher Standards of BANK OF AMERICA, an election was held and ERIC SCHOEMAN is now an Ace Detective!
June 3, 2005: At RICCARDO'S in Astoria, GLORIA TANDERJIAN proved that graduating High School is slighly easier than becoming Ace Detective!
June 5, 2005: And then at JAMIE HIRSCH's Bar Mitzvah, DAN TROTTA proved he was no "Laundry Bitch" but a real Ace Detective!
June 11, 2005: The poop...er, we mean scoop at LeHAVRE ON THE WATER is that security has now been taken over by Ace Detective GLORIA GREEN!
June 12, 2005: Remember to decorate LAUREN PASSARO's locker on her birthday because not only is she now 13 years old but now she's an Ace Detective with ERICA HALPERN!
June 14, 2005: American Idol came to the 6th grade of COLTON ELEMENTARY SCHOOL but only SEETHAL THOMAS won the competition as Ace Detective!
June 14, 2005: Happy Sweet 16 to COURTNEY SIEGEL and congratulations to STEPHANIE PLATT whose "BO" discovery made her an Ace Detective!
June 16, 2005: Congratulations to the SWAT TEAM, THE BV BAD FEMALE DOGS, and the DIRTY DOZEN on their graduation at MARJEANE CATERERS and on becoming Ace Detectives!
June 17, 2005: Life is a beach at PIER ONE in Bayville, especially with Ace Detective ROSE CICCOLELLA on hand when the killers are at bay!
June 18, 2005: Mazel Tov to DYLAN CICERO on his Bar Mitzvah and Mazel Tov to Ace Detective ZACH SLOANE, who can solve a murder but can't juggle a soccer ball 325 times!
June 22, 2005: BUD CALVERT didn't break the house but he broke the mold at the NEW YORK STATE TELECOMMUNICATIONS ASSOCIATION Expo at TURNING STONE CASINO and became an Ace Detective!
June 25, 2005: It was a marriage made in heaven at MT. FUJI in Hillburn: DAVID J. SWARTZ and Ace Detective!
June 27, 2005: At PIER ONE in Bayville, we celebrated the "fabulous 50th" of CAROLE OLKOSKI from RS JONES with BETH AARONSON using some six shooter sauce to become Ace Detective!
July 15, 2005: At THE WHITE HOUSE in Whitestone, today became the Summer Of CAROLINE BONACCI as she is now our Ace Detective!
July 16, 2005: Guess who joined the Ace Detective Club at NORTH SHORE TOWERS AND COUNTRY CLUB......EDITH MITTMAN for her scathing review of MITCHELL GOLDSTEIN!
July 20, 2005: Patients come first at MERCK & CO., but when it comes to crime solving, Ace Detective BILL DAVID came in first!
August 6, 2005: Talk about lawyers in love, today THERESA FOUDY and JOHN CASTELLANO "merged" (that's legal talk for they got married) at THE WEST POINT CLUB but it was JOHN's big brother TOM CASTELLANO (Dr. Demento) who saved the honeymoon by being our latest Ace Detective!
August 10, 2005: Not even 72 Hyperion Servers at GE COMMERCIAL FINANCE could stop Ace Detective BOB BEHLING from solving the murders!
August 13, 2005: Summer camp may continue at PAPA RAZZI in Westbury but murder is ending thanks to Ace Detective MICHAEL TAUB!
August 19, 2005: It's Happy Trails To You at CAMP VERITANS TEEN TRAILS in New Jersey with Ace Detective ALEX ROSEN back in the saddle again!
August 24, 2005: She not only has she a "sixth sense of business" at TNS GLOBAL but Ace Detective MARIVEL SOLS proved she had a real "sixth sense" ....she sees "killers"!
September 23, 2005: In Orange County, New York, business is good and crime rate is low according to THE ORANGE COUNTY CHAMBER OF COMMERCE and this is all due to Ace Detective ANNETTE SOLOS!
September 24, 2005: Maybe in Russia, NESGFOA doesn't mean "I don't know", but in Maine, we know for sure it stands for THE NEW ENGLAND STATES GOVERNMENT FINANCE OFFICERS ASSOCIATION where ROSEANN DAY now balances the budget as an Ace Detective"!
September 29, 2005: MARTY KANENGISER has a lot to give at PEPSICO including his new title of Ace Detective!
September 30, 2005: Desperate Housewives beware! At RICCARDO'S in Astoria, there is a Desperate Ace Detective - CAROL GUY!
October 1, 2005: To some criminals, murder is better than marriage but not if they run into Ace Detective ANITA WEISS at THE CLARKSBURG INN!
October 7, 2005: Only criminals should serve without compensation at THE MARLBORO TOWNSHIP RECREATION & PARKS COMMISSION according to Ace Detective DIANE AMSTER!
October 8, 2005: The WONDER WOMAN of Table 12 are now the Red Hot Red Hat Ace Detectives of THE RED HAT SOCIETY and they greet killers with verve, humour and elan!
October 15, 2005: It was "bring out the beer" at PIER ONE in Bayville and Ace Detective KEVIN POST shouted out "Bring Out The Killers"!
October 21, 2005: Disco lives at PAPA RAZZI in Westbury as long as Ace Detectives NEAL & STEPANIE are around to keep us "stayin alive"!
October 22, 2005: We now know that IRENE & FRED ALBERT will remain married for another 50 years with Ace Detective SAL MOCCIA keeping them in line!
October 26, 2005: She may have retired as a teacher but when she attends bus tours with JZED UP PRODUCTIONS, she becomes RISA STERN Ace Detective!
October 28, 2005: Halloween at MARJEANE CATERERS is a scream with Ace Detective CARLA VAVRING!
October 29, 2005: We all had a ball at THE THAYER HOTEL'S Halloween Ball but MELISSA HEALY had an Ace Detective!
October 31, 2005: There was only one woman who was pure evil at Halloween night at ELK STREET GRILLE, and Ace Detective GREGORY ENNIS knows her intimately!
November 4, 2005: She's a No. 1 MOM but THE WHITE HOUSE in Whitestone has nominated CINDY HANLEY as Ace Detective!
November 5, 2005: The results are in and THE JUNCTION in Newton, NJ has conceded that the winner of the election for Ace Detective is..........KRISTI BROWN!
November 10, 2005: When he's not chasing the traffic to get to class on time, Ace Detective CHASE BOROS can be found chasing killers for the RUTGERS COLLEGE OFF-CAMPUS STUDENT ASSOCIATION!
November 11, 2005: Only BEN COOPER from ST. ANDREWS GOLF CLUB has the ability to chase down killers...and then bury them!
November 12, 2005: Military madness reigned at THE VIEWS OF MT. FUJI in Hillburn until Ace Detective RACHAEL KARNICK brought us back to sanity!
November 17, 2005: Providing opportunities for students to develop skills in the areas of vocational understanding, leadership development, civic consciousness, and social intelligence is the purpose of NORTHERN HIGHLANDS REGIONAL HIGH SCHOOL DECA but JILIAN MAIO discovered the secret of crime solving and is now an Ace Detective!
Novemer 18, 2005: Its on to the Super Bowl for the JR. RAIDERS YOUTH ASSOCIATION, with the help of some Raider fries and Ace Detective JELISA FIGUERRA!
November 26, 2005: Proving he was no turkey at the Sock Hop at THE THAYER HOTEL in West Point was Ace Detective PAUL MARQUES!
December 2, 2005: JOSIANE HAYAT was able to celebrate the big 50 with the help of her Ace Detective team of JACKIE & JEFF!
December 3, 2005: At TOYOTA MOTOR CREDIT, you asked for it, you got it: Ace Detective ASHTON ROWELL!
December 3, 2005: And when you shop for State Farm Home and Auto Insurance at the BRIAN M. GILL AGENCY, remember that like a good neighbor, Ace Detective DENISE TREUTLEIN is there!
December 7, 2005: And the Characterization Group at IBM finally got rid of the "curse of the donuts" with the brilliant technological mind of Ace Detective DAVID KRUGER!
December 10, 2005: And at THE THAYER HOTEL, Ace Detective DAVE SMITH proved he could jump from the mob's hit list to Santa's List!
December 12, 2005: Ace Detective MASSI DECAROLIS can capture killers at point blank of purchase whenever they try to attack ULTIMATE DISPLAY INTERNATIONAL!
December 13, 2005: And when crime is up and the "network is down" at STRYKER ORTHOPAEDICS, everyone calls on Ace Detective VICTOR ANAYA!
December 16, 2005: When killers at PIER ONE in Bayville receive their Miranda Rights from Ace Lawyer and Ace Detective MIRANDA, it's their last rites!
December 20, 2005: They struck a real goldmine at RSOFT DESIGN GROUP when they downloaded Ace Detective EVAN HANDLER!
TO VIEW OUR ACE DETECTIVES FROM OTHER YEARS, JUST FOLLOW THESE LINKS:
1996 Ace Detectives...1997 Ace Detectives...1998 Ace Detectives...1999 Ace Detectives...2000 Ace Detectives
2001 Ace Detectives...2002 Ace Detectives...2003 Ace Detectives...2004 Ace Detectives...2005 Ace Detectives
2006 Ace Detectives...2007 Ace Detectives...2008 Ace Detectives...2009 Ace Detectives...2010 Ace Detectives
2011 Ace Detectives...2012 Ace Detectives...2013 Ace Detectives...2014 Ace Detectives...2015 Ace Detectives
2016 Ace Detectives...2017 Ace Detectives
---
TO GO TO THE NEXT PAGE:
TO GO TO ANY PAGE:
Home Page........Schedule of Shows........Reviews........Ace Detectives........Kasts & Kasting Information........Private Events........Other Interactive Shows
Business Theater........Links



Web Author: The Killing Kompany
Copyright 1996 - 2018 by Jon Avner and The Killing Kompany - THE KILLING KOMPANY is a trademark of THE KILLING KOMPANY MURDER MYSTERY DINNER SHOW, INC. - ALL RIGHTS RESERVED