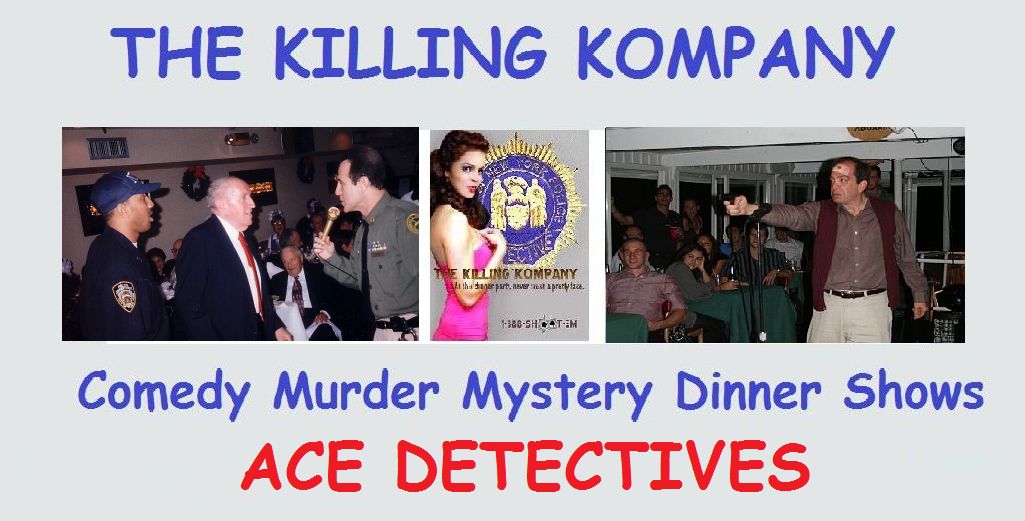 LADIES AND GENTLEMAN, WE PRESENT OUR ACE DETECTIVES FOR 1999:
January 9, 1999: Hey - ten inches of snow didn't stop JIM BRETON from becoming our next Ace Detective at the Installation Banquet for the ALEXANDER FIRE DEPARTMENT in Alexander, New York!
January 9, 1999: For the first time in our history a looney became Ace Detective...we're not kidding - DARREL LOONEY, M.D. figured it out at JEFFREY HORWITZ' surprise birthday party!
January 22, 1999: If you don't believe that the killer at the High School Reunion at THE BEACH CLUB in the Rockaways were three escaped lunatics from an asylum who thought they were aliens from outer space - then ask MARIA DYER - she figured it out and became our latest Ace Detective!
February 6, 1999: COLGATE UNIVERSITY has a new Ace Detective - MIKE KNOPP - who guessed the murderer at the Student Activities Office special murder mystery dinner at The Edge Cafe!
February 12, 1999: Love and murder reigned at the special Valentine Murder Mystery Dinner Dance at THE GONDOLA - and VIVIAN SALCEDO reigned as our Ace Detective!
February 13, 1999: And at THE WHITE HOUSE's Valentine's Mystery, PAULA KUTNER and MITCH KERSCH shared their ballot (and who knows what else) and became our winning couple of Ace Detectives!
February 27, 1999: This time we did a show booked through AAA ENTERTAINMENT (email them at AAAent@juno.com) and we did it for THE ELKS - or rather an Elks Lodge - so AAA, you're AAAces with us!
March 6, 1999: Hey you know what - it was worth the 8 hour drive in a blinding snow storm to get to MAX GERSTEN's Winter Weekend Celebration at CAMP POINT O' PINES, and it was worth it to see PAM GEIST become our latest Ace Detective!
March 12, 1999: Those Irish eyes were smiling on MIRIAM GONZALEZ when she became our Ace Detective at the St. Patrick's Day Mystery at NIEDERSTEINS!
March 17, 1999: TEMPLE SHOLOM celebrated it's 50th Anniversary, so we celebrated KATHY BRITE and ELLEN PLOTKIN as our Ace Detectives!
April 4, 1999: The brothers of PHI SIGMA KAPPA at MIT in Boston have it made - not only are their girlfriends beautiful - but real smart too because EVELYN SUNG is now our latest Ace Detective at the Murder Mystery Formal!
April 9, 1999: Question - She was the pretty Ace Detective at THE QUIZ SHOW MYSTERY at THE WHITE HOUSE where she also celebrated her 16th Birthday? Time is up - the correct answer was "Who is Erin Piscetta?"
April 16, 1999: And at the Godfather's Birthday Party at THE BEACH CLUB, who would have thought that CHARLES QUINN would finger all the killers and become our latest Ace Detective - I mean fugettaboudit!
April 17, 1999: She got her ballot in at the last second and it was the winning answer - so ILANA TEETER from CONGREGATION ANSHEI SHALOM, you're our latest Ace Detective!
April 24, 1999: And we thought they were geniuses - but alas, no one from GREATER NEW YORK MENSA could guess the killer - so we gave our Ace Detective to NANCY HEPPNER because at least she got some of it right!
May 5, 1999: It was "Mother/Daughter" night for Troop 4136 of the GIRL SCOUTS - and it was the Mother/Daughter team of MARIA & MONICA FORMOSO who fingered the killers and became our latest Ace Detectives!
May 15 & 16, 1999: Sometimes, other murder mystery companies ask us to produce shows for them - now we won't mention names - but we will tell you that we had a great time at FOXWOODS RESORT & CASINO and they are aces with us!
May 18, 1999: Because they are simply the best, it was a celebration for KENAN SYSTEMS and LUCENT TECHNOLOGIES - and because she was simply the best, SUE HYLAND became our latest Ace Detective!
June 1, 1999: So first we celebrated LOCUST VALLEY HIGH SCHOOL at METROPOLITAN in Glen Cove, and then we celebrated BOB BUONASPINA as our Ace Detective!
June 4, 1999: At CHASE MANHATTAN BANK, the right relationship is everything and JOYCE LUNA from CARDMEMBER SERVICES learned that with THE KILLING KOMPANY, the right answer is everything - that's why she's our latest Ace Detective!
June 8, 1999: They came from California to enjoy the hottest day in New York City, but despite the heat, RON MORROW from CAPITAL RESEARCH AND MANAGEMENT COMPANY kept a cool head so now he's one hot Ace Detective!
June 25, 1999: He said he was "in between jobs" but we think that FRANK FERRANTI, JR. has a future in police work because at the Policeman's Ball at NIEDERSTEIN'S, he became our latest Ace Detective!
July 17, 1999: The heat was on at THE UNION LAKE SAILING & TENNIS CLUB (in fact it had to be in the high 90's) but for GINA NISCO, becoming an Ace Detective was a real breeze, and now she really is a Trophy Wife!
July 23, 1999: The cards don't lie, and neither does KATHY McGRAW, because at The Psychic Show at THE WHITE HOUSE, she used her "sixth sense" to become our latest Ace Detective!
July 24, 1999: It was a night of music and murder at the BARON DE KALB KNIGHTS OF COLUMBUS in Brooklyn, but it was also a night for SUSAN VALLONE to become our Ace Detective!
July 25, 1999: For Wild West Fun & Games, nothing beats BOOMTOWN CASINO in BILOXI, MISSISSIPPI and for our latest Ace Detective, no one could beat SUSAN SCHUMACHER!
August 13, 1999: And who is the Ace Detective of WATSON WYATT DATA SERVICES...Survey Says: AIMEE DICK!
August 17, 1999: So it doesn't really matter which table team won at the celebration for CMP MEDIA, COMPUTER RESELLER NEWS and VARBUSINESS because everything they do is a team effort, right guys......Ok, it was table 8!
August 21, 1999: We understand why - you see it was MILTON & DEENA GERSHON'S 50th Anniversary, and everyone was caught up in the celebration - of course no one figured out who the killer was. So we gave our Ace Detective award to EILEEN "The Rat" DROBBIN who said the killer was her husband Harold because he has a "killer" hernia!
August 24, 1999: Our vote for Ace Detective goes to the crew of THE JEWEL as we solved the murder on the high seas of the Hudson River!
August 26, 1999: There were two reasons why we decided to give our Ace Detective award to JIM BULGER from the Collections Department of CHASE MANHATTAN BANK: First, he did guess the killers; and second, for insurance just in case any of us get into debt!
September 8, 1999: Those Vice Presidents from the Collections Department of CHASE MANHATTAN BANK are better at collecting debt than they are at collecting killers - we gave our Ace Detective award to ROB HUGHES because at least he came up with a motive other than "the chicken dinner sucked"!
September 18, 1999: Not only was today ELIZABETH KUCHARCZYK's Birthday Party (She's 12!), but today was also the day that she and CATHERINE McCOOL became our latest Ace Detectives!
September 24, 1999: Lucky LARRY LUTTO! He's our first Ace Detective at our premiere show at RICCARDO'S BY THE BRIDGE in Astoria!
October 5, 1999: What a night! Tap dancing, Flamenco dancing, surfer music boogie and MURDER! - this show was booked through ABOUT ENTERTAINMENT for all the Market Intelligence Ace Detectives at IBM - with About, that's what it's all about!
October 8, 1999: She's 14, she wants to be a lawyer and already she's an Ace Detective...she's KERRI ZAPART, our winner at PAPA RAZZI in Westbury!
October 9, 1999: The great legal mind of PAUL THOMPSON was finally put to use at TEMPLE EMANU-EL in Livingston, New Jersey so now he's an Ace Detective!
October 12, 1999: They bring good things to life and I guess we bring good things to murder? Anyway, through GINAMARIE TALENT & ENTERTAINMENT SERVICES (1 800 737-0797), we were able to make the Stamford CT crew of GE CARD SERVICES our latest Ace Detectives!
October 15, 1999: It may have been "Fun Day" for the fun crew at AMERICAN EXPRESS CARDS but it was "Ace Detective Day" for DAVID REWCASTLE!
October 29, 1999: Not only can this nun dance, she can solve murder mysteries at THE WHITE HOUSE so SISTER ENA - you are our latest Ace Detective!
October 29 & 30, 1999: And at our MYSTERY IN THE BIG EASY at GRAND CASINO AVOYELLES in Louisiana, our winner Friday night was Table 15 a/k/a ANOTHER ROUND OF DRINKS PLEASE and our winner Saturday night was Table 20 a/k/a THE BREAD MONSTERS. And joining these Ace Detectives are also the winners of the all-expense paid trip to London, awarded by those fabulous folks at GRAND CASINO AVOYELLES.
October 30, 1999: An airline (whose name we won't mention) lost our props on our way for our second almost annual Halloween show at CASINO AZTAR in Evansville, Indiana - but those Ace Detectives in the Special Events, Marketing and Player Development Departments were able, in just a few hours, to locate (and at times make themselves) enough props for us to put on the show...so a round of applause for them and - oh yes - our winning table - NINE LASSES AND ONE ASS.
October 30, 1999: Yes we had 3 different shows going on that night, crimes being solved throughout the country, and those Ace Detectives at KELLENBERG HIGH SCHOOL in Uniondale, New York were able to solve one too!
November 2, 1999: Fuggedaboudit - it was gangster night for the Scotto family at WESTBURY MANOR and Ace Detective night for MIKE MERRILL and JOE SALIERNO!
November 3, 1999: Not only is she the "Princess Charge It" of AXA ADVISORS but now LORETTA RUPLIN is an AXA Ace Detective!
November 6, 1999: Not only is RODNEY MARTIN an Ace Detective, but he's also an ace for attending the fundraiser for AMERICAN SYRINGOMYELIA ALLIANCE PROJECT held at CANDLEWOOD VALLEY COUNTRY CLUB in Connecticut!
November 6, 1999: But at the fundraiser for THE FRANK RANDAZZO, JR. FOUNDATION held at LAWRENCE VILLAGE COUNTRY CLUB in Long Island, we had a table of Ace Detectives called ZEITGIEST '99!
November 12, 1999: MURDER AT THE VETERAN'S BALL at NIEDERSTEIN'S - a night to honor our vets and a night to honor EWELINA SAGAN as our Ace Detective!
November 13, 1999: After 34 years working in homicide for NYPD, RALPH GORMAN finally made Ace Detective - and it all happened at the benefit for OUR LADY HELP OF CHRISTIAN CHURCH in Brooklyn!
November 19, 1999: And from the CLASS OF 2001 at PRINCETON UNIVERSITY, we have the Ace Detective team of AMANDA HAINES and LAURA COATES!
December 2, 1999: They say the greatest team at AMERICAN EXPRESS is the Global Resources Management team from Human Resources Department but the greatest Ace Detective is Program Manager STACY DO!
December 4, 1999: Like a good neighbor, STATE FARM is there, and like a good Ace Detective, LIEN CORBIN was there to solve the mystery for the South Coast Leadership Council Holiday Party at the HOTEL SOFITEL in Los Angeles!
December 8, 1999: He's not only the "Big Gun" at AMERICAN EXPRESS, he's also the Big Ace Detective - he's GREG BOTKIN, who solved the murder at SOHO KITCHEN & BAR in Manhattan!
December 8, 1999: And with the Small Business Services Department at AMERICAN EXPRESS, ALICE BORDEN reigned as the Ace Detective at the PARK HYATT in Philadelphia!
December 10, 1999: Two Ace Detectives for the price of one - SUSAN PAYNE and SHARON NEUMANN shared the honors at the IVANS, INC. Holiday Party at REID CASTLE at MANHATTANVILLE COLLEGE!
December 10, 1999: Another evening booked through ABOUT ENTERTAINMENT and another murder solved - this time for the public relations firm of LANE & CODY!
December 11, 1999: Murder on the high seas of the Connecticut River! But with the help of Ace Detective JANE DUNN, the case was solved courtesy of CAMELOT CRUISES in Haddam, Connecticut!
December 11, 1999: And at the Holiday Murder Mystery Dinner Party for WATKINS ENGINEERS & CONSTRUCTORS, GERRY JACOBS engineered the best answer and became our latest Ace Detective at THE WATERLOO MEETING HOUSE in New Jersey!
December 16, 1999: Boy these engineers are smart because at the holiday party for HEWITT ASSOCIATES, CARMINE GAGLIARDI a/k/a Carmine The Engineer is now also known as Carmine The Ace Detective!
December 17, 1999: For our first show at PIER ONE in Bayville it was MURDER AT THE GODFATHER'S CHRISTMAS PARTY and for our first Ace Detective at PIER ONE...it was JOAN WOLF!
December 18, 1999: Happy Holidays to EXHIBIT SURVEYS and Seasons Greetings to Ace Detective SANDY WILLIAMS!
December 18, 1999: There were no flats at the holiday party for MAVIS DISCOUNT TIRES...thanks to Ace Detective DAWN CATALANO!
---
TO VIEW OUR ACE DETECTIVES FROM OTHER YEARS, JUST FOLLOW THESE LINKS:
1996 Ace Detectives...1997 Ace Detectives...1998 Ace Detectives...1999 Ace Detectives...2000 Ace Detectives
2001 Ace Detectives...2002 Ace Detectives...2003 Ace Detectives...2004 Ace Detectives...2005 Ace Detectives
2006 Ace Detectives...2007 Ace Detectives...2008 Ace Detectives...2009 Ace Detectives...2010 Ace Detectives
2011 Ace Detectives...2012 Ace Detectives...2013 Ace Detectives...2014 Ace Detectives...2015 Ace Detectives
2016 Ace Detectives...2017 Ace Detectives
---
TO GO TO THE NEXT PAGE:
TO GO TO ANY PAGE:
Home Page........Schedule of Shows........Reviews........Ace Detectives........Kasts & Kasting Information........Private Events........Other Interactive Shows
Business Theater........Links



Web Author: The Killing Kompany
Copyright 1996 - 2018 by Jon Avner and The Killing Kompany - THE KILLING KOMPANY is a trademark of THE KILLING KOMPANY MURDER MYSTERY DINNER SHOW, INC. - ALL RIGHTS RESERVED