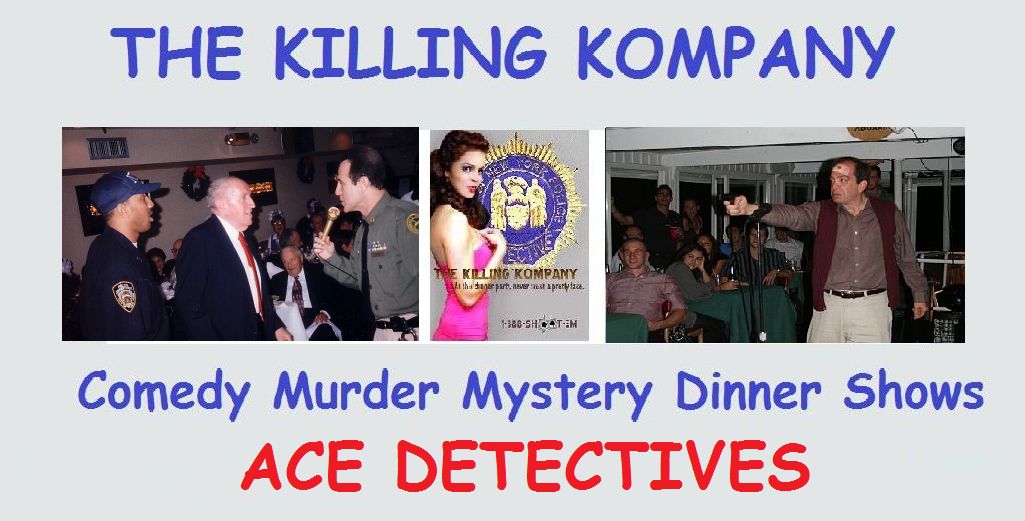 Again, we started to list the winners as of October 1996 so we apologize again to all our earlier winners......
LADIES AND GENTLEMAN, WE PRESENT OUR ACE DETECTIVES FOR 1996:
October 11, 1996 : LOLA from the PTA in Whitestone, NY! Congratulations LOLA (whatever she wants, she gets!)
October 31, 1996: LAURA SCHMIDT from the Rockaways. In fact, Laura's husband may have had an affair with the killer so...Way To Go Laura!
November 2, 1996: GLADYS from THE CITY OF HOPE - LIFELINE CHAPTER. Actually, Gladys got only one of the killers but that was a lot better than all the other ladies that night who accused the poor detective.
November 8, 1996: TONY ARCURI from the PS 47 PARENTS ASSOCIATION in Broad Channel, NY. Tony followed a very simple strategy...he was the only one who stayed sober that night.
November 10, 1996: MIRIAM GOLDBERG at ATARA BRACH's Bat Mitzvah. Miriam was also one of the very few who didn't accuse Atara.
November 10, 1996: JOSH KALTER at the 10th Wedding Anniversary of BARBRA & GAVY SIMON and BARUCH & ESTHER WEINSTEIN. Actually, Josh's winning ballot was picked by Barbra and Esther...hmmmmmmmm.
November 16, 1996: LAURA GIUSTI at the ST. MEL'S HOME SCHOOL ASSOCIATION benefit; but how about a special mention for JOE MARTULLO's ballot which stated that the killer was "Mr. Green in the kitchen with the knife while making it with Col. Mustard's dog!" You're a sick man Joe and that's why we love ya!
December 18, 1996: GEORGINA SAMPSON from the QUEENS HOSPITAL CENTER. Now if she could only figure out a way to really save the hospital, she'd be a real genius!
December 31, 1996: REVA HIRSCH, because after 5 children, she decided she really needed an education and this February she'll be graduating Queens College with a B.A. in Psychology.
---
TO VIEW OUR ACE DETECTIVES FROM OTHER YEARS, JUST FOLLOW THESE LINKS:
1996 Ace Detectives...1997 Ace Detectives...1998 Ace Detectives...1999 Ace Detectives...2000 Ace Detectives
2001 Ace Detectives...2002 Ace Detectives...2003 Ace Detectives...2004 Ace Detectives...2005 Ace Detectives
2006 Ace Detectives...2007 Ace Detectives...2008 Ace Detectives...2009 Ace Detectives...2010 Ace Detectives
2011 Ace Detectives...2012 Ace Detectives...2013 Ace Detectives...2014 Ace Detectives...2015 Ace Detectives
2016 Ace Detectives...2017 Ace Detectives
---
TO GO TO THE NEXT PAGE:
TO GO TO ANY PAGE:
Home Page........Schedule of Shows........Reviews........Ace Detectives........Kasts & Kasting Information........Private Events........Other Interactive Shows
Business Theater........Links



Web Author: The Killing Kompany
Copyright 1996 - 2018 by Jon Avner and The Killing Kompany - THE KILLING KOMPANY is a trademark of THE KILLING KOMPANY MURDER MYSTERY DINNER SHOW, INC. - ALL RIGHTS RESERVED