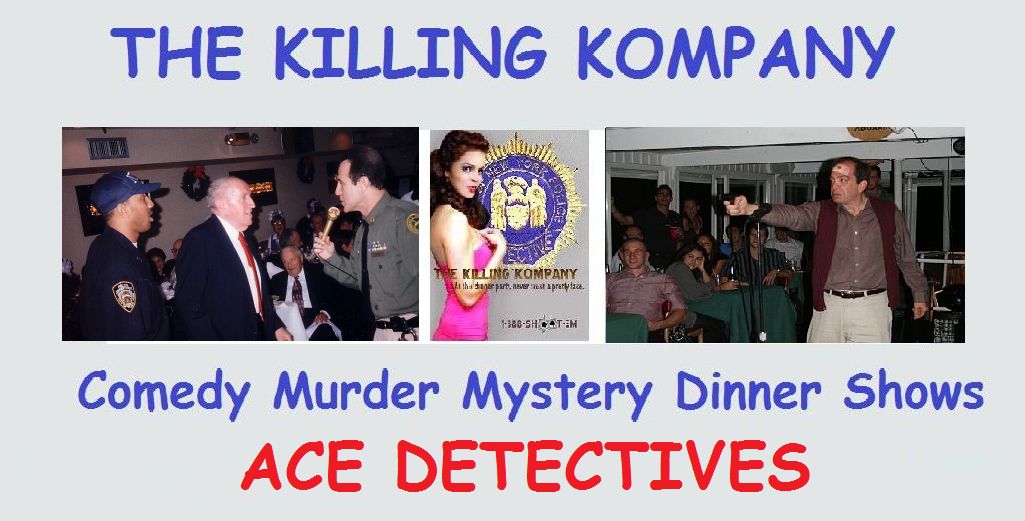 LADIES AND GENTLEMAN, WE PRESENT OUR ACE DETECTIVES FOR 2000:
January 1, 2000: And to start the new milliennium, our first Ace Detective in the year 2000 is TERRI RITCHIE who figured out who was trying to blow up THE WHITE HOUSE - the one in Whitestone!
January 28, 2000: It was Disco Night at RICCARDO'S in Astoria and only one person had the "right stuff" to be Ace Detective - and that was LAURA WRIGHT!
February 4, 2000: The fact is that this event for the Seventh Grade at MATTLIN MIDDLE SCHOOL in Plainview was actually produced by our sister company INTERACT-INC!, but MARISSA UNGER was so good at solving the DNA Mystery that we decided to put her name up here as one of our latest Ace Detectives!
February 12, 2000: ST. PAUL'S EPISCOPAL SCHOOL in College Point now has a new Ace Detective - BRIAN KIGHTLINGER!
February 12, 2000: And at the Valentine's Day show at PAPA RAZZI, Ace Detective CHRISTOPHER ISERNIO won our hearts with his winning answer!
February 25, 2000: The power of GE was certainly at the fingertips of the GREY-MON TEAM, consisting of SUSAN (and Kevin) KRATCH, LAMYAA EL-GABRY, KEVIN GORDON and MELODY LIU, as they became our latest Ace Detectives at the special team building dinner at the HOTEL DESMOND in Albany, New York for the GE TECHNICAL ENTRY LEVEL PROGRAM at GE POWER SYSTEMS!
March 11, 2000: Not even a new child due in May could stop JOANN GIAMMARINO from becoming our latest Ace Detective at OUR LADY OF THE BLESSED SACREMENT SCHOOL in Bayside!
March 11, 2000: And Ace Detective LORI GEUBER from COMMACK JEWISH CENTER not only solved the murder, but we think she also helped in finding some of our "stolen" props!
March 11, 2000: We can't tell you which Vice President at NBC was celebrating her 40th birthday at the ST. REGIS HOTEL, but we can tell you that MORE THAN MUSIC (516 626-9400) booked us for this event so they're Ace Detectives with us!
March 17, 2000: St. Patrick may have driven the snakes out of Ireland but BARBARA MATTERA drove the snakes and the killers out of NIEDERSTEIN'S when she became the Ace Detective at the St. Patrick's Day Murder Mystery!
March 18, 2000: It was Mardi Gras at SACRED HEART SCHOOL in Bayside and just the right time to celebrate TERESA AUSTIN as our latest Ace Detective!
March 24, 2000: We had a FAB time at HAVERFORD COLLEGE in Pennsylvania and WASIF ALI was "fab - ulous" as our latest Ace Detective!
March 30, 2000: BAND - ATTEN-HUT! The Ace Detective of the SAN RAMON VALLEY HIGH SCHOOL MARCHING BAND - THE WOLVES - from Danville, California is......drum roll please.......CHRISSY LUND!
March 31, 2000: It was such a wild wedding at PIER ONE in Bayville that no one figured out who the murderers were - although everyone suspected the mayors of Oyster Bay Cove and Bayville who attended as our guest of honors - so we made ANNE ISAACS an Ace Detective because she thought the wedding singer was in love with the bride and the groom....not even close but it was kind of cute.
April 1, 2000: And how about that JOHN BOREK - kind of quiet all evening - but when it came time to solve the murder at the ST. AMBROSE CHAPTER of the KNIGHTS OF COLUMBUS in College Point, he made a lot of noise as our latest Ace Detective!
April 1, 2000: He's not just "Deadly" Dan Miller, he's also Ace Detective Dan Miller from the New Jersey Dor Hadash chapter of HADASSAH!
April 8, 2000: Ace Detective CAROL FISCHER saved the Township of Cranford New Jersey and TRINITY EPSICOPAL CHURCH when she identified the killer!
April 14, 2000: Congratulations to the FIFTH GRADE at ALBANY AVENUE ELEMENTARY SCHOOL and congratulations to Ace Detective MICHAEL FELICCIARDI who solved the mystery at THE GALAXIE in Lindenhurst!
April 15, 2000: You can't fool ELIZABETH WEBEN - and now she's known at the DOUBLEDAY BABCOCK SENIOR CENTER in Oyster Bay as the number one Ace Detective!
April 21, 2000: What a perfect night to return to The Edge Cafe at COLGATE UNIVERSITY for a new murder mystery dinner show, courtesy of the Student Activities Office, where Ace Detective JESSICA FRANK had a perfect solution!
April 28, 2000: It was the night that Hollywood came to THE WHITE HOUSE (in Whitestone not Washington) and the night that CONNIE MULLEN became our latest Ace Detective!
April 29, 2000: Here was another show that was booked through FLYING FROG PRODUCTIONS so again we can't announce the Ace Detective but see if you can guess - what Freehold Mall shopper and bad cook had her surprise 40th birthday party at WOODLAKE COUNTRY CLUB?
May 4, 2000: And so it came to pass that QIANA WILLIAMS from the Financial Investment Group of GOLDMAN SACHS would become our latest Ace Detective at the "Publicly Traded Murder" held at FILLI PONTE RISTORANTE in Manhattan!
May 8, 2000: And again we had another show booked through FLYING FROG PRODUCTIONS so even though we can't announce the Ace Detective, we send our regards to those nice folks at CABLEVISION and THE WIZ and of course THE CLARION HOTEL in Edison, New Jersey!
May 12, 2000: Our special Mother's Day Mystery at PAPA RAZZI was a blast so Happy Mother's Day to all and Happy Ace Detective Day to our latest super sleuth HEATHER KALACHMAN who wrote a 1000 word thesis for her answer!
May 19, 2000: IVETTE BOYLES may have left her husband at home but she took her Ace Detective skills to RICCARDO'S and solved the Godfather's Birthday Murder!
May 20, 2000: Not only was it gangster night at the BARON DE KALB KNIGHTS OF COLUMBUS in Brooklyn, but it was Ace Detective night for GARY PANDERELLA ("Mr. Buff")!
June 1, 2000: Dum - De Dum Dum...Dum! It was SFL Day at BRONXVILLE HIGH SCHOOL and our latest Ace Detectives were the DRAGNET team of MIKE FELDMAN, JEFF SOUTENDIJK, LIS SMITH, MARY BETH CRAVEN, MIKE POPOVIC, NICOLE RODRIGUEZ and of course MRS. ZENDEL!
June 7, 2000: And for HARDING AVENUE SCHOOL in Lindenhurst, the 5th Grade Class of 2000 had a special mystery day at CHATEAU LA MER and our special Ace Detectives were from Mrs. Turri's Table - FRANCESCA GUFIELD, KEITH SCHRIEFER, CHARLENE SCHNEIDER, MATT GERADI, MICHAEL BLONDER, THERESA SCAGOLA, BRIAN HOFFMAN, JULIAN NUNEZ, APRIL DENNI, JESSICA MEDINA and, last but not least, the mysterious CHARLENE S. !
June 9, 2000: The 90 degree heat couldn't stop those crazy criminals at the benefit dance for ST. ROBERT BELLARMINE HOME SCHOOL ASSOCIATION in Bayside nor did it stop JUDY CRILLEY from becoming our latest Ace Detective!
June 14, 2000: ANNE LUONG from THE GARTNER GROUP proved that she had insight to the connected world and to the detective world!
June 16, 2000: It was Father's Day at PIER ONE in Bayville and Ace Detective Day for JUNE "THE LIP" LIPSKY!
June 21, 2000: The first day of summer - the perfect day for an evening at MANERO'S in Connecticut and a perfect day for SOOKY "THE SLAYER" LEE from GE CAPITAL CORPORATE SOURCING to be our Ace Detective!
June 22-23, 2000: He's the Number One Boyfriend and the Number One Ace Detective - He's RALPH MOHR and we all had a criminally great time at the Chesapeake Bay cruise party hosted by the lovely CAROLE OAKES on board the majestic American Eagle from AMERICAN CRUISE LINES.
June 28, 2000: No the butler didn't do it - just ask WILLEMINA KRAMER: she's our latest Ace Detective from the ELDERHOSTEL mystery week program at the INCARNATION CENTER in Ivoryton, Connecticut!
July 6, 2000: He's not just IAN KUPFERBERG the Intern, he's now IAN KUPFERBERG the Ace Detective from the MARTIN GELLER CPA party held at MORTON'S STEAKHOUSE in Manhattan!
July 14, 2000: Who Wants To Marry (And Murder) A Millionaire? Ask Ace Detective BEN ATKINS because he solved the crime at NIEDERSTEIN'S!
July 18, 2000: He may not know what year it is but he knew who the murderer was - that's Ace Detective DENNIS MOUY from APPLE COMPUTER - AUSTRALIA, here in the Big Apple for MACWORLD EXPO 2000!
August 11, 2000: What the Camp Rattana survivors needed was an Ace Detective like JULIA GOODWIN to save the day at The White House!
August 12, 2000: Money was the root of all evil on the Connecticut River and Ace Detective SAMANTHA CARNI knows why, with the help of CAMELOT CRUISES in Haddam, Connecticut!
September 3, 2000: We now know who "Deep Throat" is - it's Ace Detective RYAN WOOL, who may be a terrible driver but he solved the Camp Kalikow crimes!
September 7, 2000: OK - so there were several people at GE CAPITAL MARKETS SERVICES who at least figured out who one of the murderers was at FOXWOODS, but the reason why we picked TOM GRECO out of the group of potential winners as the Ace Detective was because...well everyone else accused him of being the killer and we sort of felt sorry for him and he can kind of dance.....
September 8, 2000: Hold on to your Viagra because at the CAMELOT CRUISES mystery cruise for PFIZER PHARMACEUTICAL, our latest Ace Detectives were the "White With Blue" Team consisting of JUDY, MARY, JOY, MARK, BILL, CHRIS & DALE!
September 9, 2000: The SISTERHOOD OF THE BELLEROSE JEWISH CENTER is proud to announce its latest Ace Detective - COREY COOLEY!
September 13, 2000: The tie and jacket paid off for DOUG SMITH as he became our latest Ace Detective at the NASBO EASTERN REGIONAL CONFERENCE sponsored by the NEW JERSEY DEPARTMENT OF TREASURY at THE MOLLY PITCHER INN in Red Bank, New Jersey!
September 14, 2000: They weren't even close but we had to give an award to someone - so at the CAMELOT CRUISES mystery cruise for AIFS, our latest Ace Detectives were the "Bogart" Team consisting of JEANNE, PATTY B, GEORGE, BOUGUSLAW, JOHN, VIOLET, VU, DAN, JUAN and SUZI!
September 22, 2000: Once again we were aboard our favorite cruise ship at CAMELOT CRUISES, and our Ace Detectives at TABLE 5 from LEGO solved the crime....well sort of!
September 22, 2000: And at the Policemen's Ball at PIER ONE in Bayville, our Ace Detective was the Husband and Wife team of CALVIN & JEAN ROTHMAN!
September 24, 2000: You can't fool RYAN STORM and that's why he's our latest Ace Detective from CONGREGATION KOL AMI in White Plains!
September 25, 2000: OK so we had trouble pronouncing her name but we had no trouble pronouncing her our latest Ace Detective at the dinner for PHS HEALTHPLANS...oh yeah, her name - NATALIA IOUKHNIOUK!
September 28, 2000: Question - Can CFO's from CITIGROUP solve crimes as well as they solve financial issues? Answer - Yes, if those CFO's are the Ace Detectives from THE OFF SITES Team consisting of TODD THOMSON, SHERI PTASHEK, NICK "LOOSE LIPS" LYALL, JUAN-MANUEL CORRAL, EDUARDO EGUREN, IAN STUART, JEFF WALSH and JEANNE D'AMICO!
September 29, 2000: And at RICCARDO'S, PHIL MAYMIN outwited, outplayed and outlasted everyone to became our latest Ace Detective!
September 30, 2000: It was the Birthday Bozo Bash for RICHARD "KILLER" COTTON and "DEADLY" DAVID SILVA, and Ace Detective ALICIA McCARTHY solved the legal crime!
October 11, 2000: The sales reps celebrated and took over the CAMELOT CRUISES mystery cruise for ANTHEM BLUE CROSS BLUE SHIELD, and our latest Ace Detectives are the "Bonnie's Weiss-Guys" Team of ROZ, JEFF, LOU, JAMES, SALLY, GINA, PAUL, ROBIN, KEN & REILLY!
October 12, 2000: Maybe it was her "mother" instincts at work but DIANE LAUGHLIN solved the crime and now she's the latest Ace Detective from the MARTIN GELLER CPA party held at the HUDSON RIVER CLUB in Manhattan!
October 13, 2000: Ace Detective LORRAINE murdered the mob and solved the crime at PAPA RAZZI in Westbury!
October 14, 2000: This time the killers were beginning to show signs of bipolar disorder on board the CAMELOT CRUISES Hawaiian Luau for ABBOTT LABORATORIES, and our latest Ace Detective is E.S. WIELOND!
October 16, 2000: She's no longer "Clueless" Antonette - now she's Ace Detective ANTONETTE PONTEROSSO who solved the crime at the HUDSON BAY ENVIRONMENTS Employee Appreciation Party held at AMICI'S in the Bronx!
October 20, 2000: Ace Detective CINDY MACLEAN got her revenge on the mob and solved the crime at THE WHITE HOUSE in Whitestone!
October 21, 2000: It was a beautiful Fall day on board the CAMELOT CRUISES tour for SCHERING-PLOUGH PHARMACEUTICAL, and fortunately Ace Detective LINDA B. was allergic to killers!
October 21, 2000: Some call her PEG "DEADLY" DOWLING but we call her ACE DETECTIVE DOWLING - the sleuth of KELLENBERG MEMORIAL HIGH SCHOOL and CHAMINADE HIGH SCHOOL!
October 27, 2000: It was "Murder By Soiree" by SOIREE EVENT PLANNERS & DECORATERS and it was Ace Detective DERECK ROMEO who solved the crime at the RAMADA PLAZA in New Rochelle!
November 2, 2000: Troops.....Attention.....and salute Ace Detective JIM WARD from IBM GLOBAL SERVICES who solved the West Point Murder at West Point's HOTEL THAYER!
November 4, 2000: Could Bush and Gore be killers? Just ask Ace Detective RAYE MOORE as she solved the pre-election crime on board the CAMELOT CRUISES mystery cruise!
November 8, 2000: And while everyone was still waiting for the election results, Ace Detective DINO REBELLANO got the "killer results" and solved the crime for SSB CITI ASSET MANAGEMENT GROUP!
November 10, 2000: Do you want the truth? Can you handle the truth? Well then it was Ace Detectives BEN & PAULA ATKINS who solved a few good murders at NIEDERSTEIN'S!
November 11, 2000: Here comes the Ace Detective - DAWN BARNEY - who solved the wedding murder on board the CAMELOT CRUISES!
November 12, 2000: It wasn't just luck - she played big - and so WENDY HUTTNER is our latest Ace Detective from FOXWOODS RESORT & CASINO!
November 13, 2000: At ANDERSON CONSULTING (now known as ACCENTURE) they knew her as "Loony Ludell", but after the mystery dinner at MARCHI'S in Manhatten, she was renamed, redefined and reborn as Ace Detective LUDELL FILS-AIME!
November 14, 2000: She can handle a gun, she can handle a knife and she can solve a crime - that's Ace Detective JENNIFER GRIFFIN from AMERICAN EXPRESS who solved the "credit card" murders at DORAL FORRESTAL!
November 15, 2000: We swear: it was because she had the best answer not because she hired us. Anyway DENISE LANG from the Investment Banking Division of GOLDMAN SACHS is our Ace Detective from the "Retailing Industry Murder" held at 5 & 10 NO EXAGGERATION in Manhattan!
November 16, 2000: Tax pro, Ace Detective pro - that's ROBERT NARDONE who solved the election crime for LOCUST VALLEY HIGH SCHOOL at THE METROPOLITAN in Glen Cove!
November 18, 2000: She came in "furst" - that's Ace Detective DEBBIE FURST from the Racetrack Murders at KNIGHTS OF COLUMBUS in the Rockaways!
November 30, 2000: The killer was sitting right at her table! And now NORMADELLE from AMERICAN EXPRESS TRAVEL SERVICES is our latest Ace Detective!
December 2, 2000: Right now she's a law student but watch out - Ace Detective ELAINE JONES will be graduating soon and solving more crimes like she did on board CAMELOT CRUISES!
December 6, 2000: Knock Knock! (Who is it?) Telegram from WESTERN UNION! (Please read it!) Murder solved at CITRUS BAR & GRILL in Manhattan - Stop. Latest Ace Detectives are LISSETTE IRIZARRY and BARRY McCOOL - Stop.
December 6, 2000: All those great legal minds at work at WINICK & RICH, P.C. and no one could identify the killer so we made JENNIFER DE ROCHE our Ace Detective because we found her so "appealing"!
December 9, 2000: There was holiday fun on board CAMELOT CRUISES, and then there was murderous fun for our latest Ace Detective ELIZABETH TIMKOVICH!
December 9, 2000: Seasons Greetings from the mob and from PIER ONE in Bayville but careful...Ace Detective LENNY FELD now knows who's been bad and good!
December 13, 2000: Hey, it's not like you have to be an IT Specialist to solve these crimes - but it helps; and that's why our latest Ace Detective is DEBBIE SEMAR from THE GARTNER GROUP!
December 14, 2000: Holy Collagen! LOIS LARRO is the Ace Detective from DATASCOPE COLLAGEN PRODUCTS DIVISION!
December 16, 2000: Tis The Season To Solve Murders On Board CAMELOT CRUISES, And Donning Her Ace Detective Apparel Is KELLY DUDEK FROM DATALINK!
December 19, 2000: Why solve the murder when you're having such a good time at LOLA'S in Manhattan - so our latest Ace Detective is RACHEL "WACKY" WHARTON from THE MALONEY GROUP!
December 19, 2000: He has the lawsuit threshold in his policy so our Ace Detective from the law firm of STARR, GERN, DAVISON & RUBIN, PC is JEFF RIZIKA!
TO VIEW OUR ACE DETECTIVES FROM OTHER YEARS, JUST FOLLOW THESE LINKS:
1996 Ace Detectives...1997 Ace Detectives...1998 Ace Detectives...1999 Ace Detectives...2000 Ace Detectives
2001 Ace Detectives...2002 Ace Detectives...2003 Ace Detectives...2004 Ace Detectives...2005 Ace Detectives
2006 Ace Detectives...2007 Ace Detectives...2008 Ace Detectives...2009 Ace Detectives...2010 Ace Detectives
2011 Ace Detectives...2012 Ace Detectives...2013 Ace Detectives...2014 Ace Detectives...2015 Ace Detectives
2016 Ace Detectives...2017 Ace Detectives
---
TO GO TO THE NEXT PAGE:
TO GO TO ANY PAGE:
Home Page........Schedule of Shows........Reviews........Ace Detectives........Kasts & Kasting Information........Private Events........Other Interactive Shows
Business Theater........Links



Web Author: The Killing Kompany
Copyright 1996 - 2018 by Jon Avner and The Killing Kompany - THE KILLING KOMPANY is a trademark of THE KILLING KOMPANY MURDER MYSTERY DINNER SHOW, INC. - ALL RIGHTS RESERVED