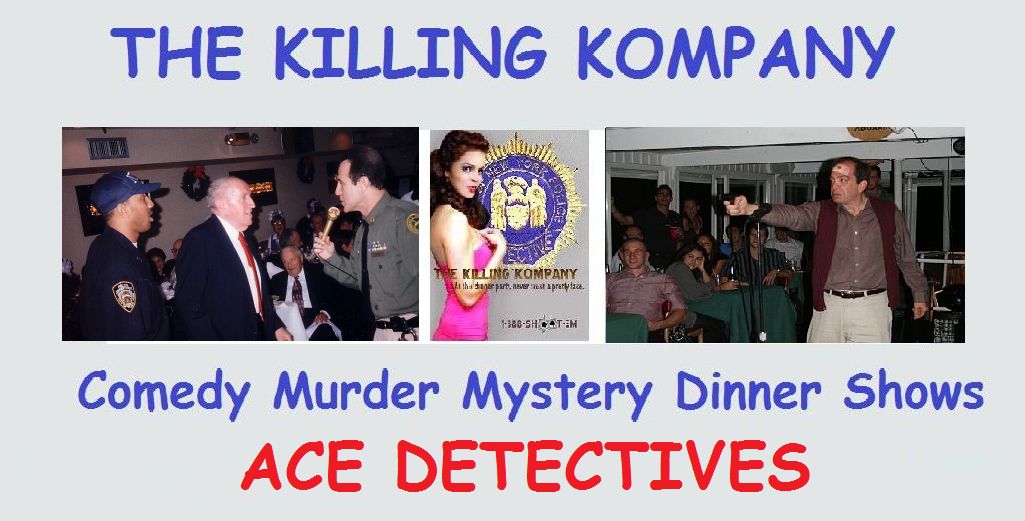 Since October of 1996, we began to list the names of our audience members who correctly guessed the murderer (or murderers) and won the prize for the show (and we apologize to all our earlier winners...but we didn't keep records of your names). To view our past Ace Detectives, just follow these links:
1996 Ace Detectives...1997 Ace Detectives...1998 Ace Detectives...1999 Ace Detectives...2000 Ace Detectives
2001 Ace Detectives...2002 Ace Detectives...2003 Ace Detectives...2004 Ace Detectives...2005 Ace Detectives
2006 Ace Detectives...2007 Ace Detectives...2008 Ace Detectives...2009 Ace Detectives...2010 Ace Detectives
2011 Ace Detectives...2012 Ace Detectives...2013 Ace Detectives...2014 Ace Detectives...2015 Ace Detectives
2016 Ace Detectives...2017 Ace Detectives
---
AND NOW LADIES AND GENTLEMAN, WE PRESENT OUR ACE DETECTIVES FOR 2016:
January 1, 2016: And again we began the year with an overnight New Years Eve show at DOUBLETREE HILTON in Tarrytown where we elected DEBRA ELLIOTT as our first Ace Detective of the year...after all, it was a Bronx thing!>
January 9, 2016: The night was "hot, hot, hot" with RUTHERFORD FIRE DEPARTMENT but even hotter was the Ace Detective team of BOB AND BARBARA KARPOWICZ!
January 15, 2016: Our first show at CRABTREE'S KITTLE HOUSE in Chappaqua and of course we could not solve the crime without the help of real NYPD Ace Detective PAUL PASTORINI!
January 16, 2016: The killers were doing the "Wobble" at THE VIEWS AT MT. FUJI in Hillburn but they could escape the wobbling eyes of Ace Detective ALAN SABEH!
February 13, 2016: We loved the fact that at our Valentine's Day show at RICCARDO's in Astoria, our Ace Detective was a high school student - don't believe us? Her picture is on our Facebook page!
February 20, 2016: Off to the film awards at THE VIEWS AT MT. FUJI in Hillburn where the winner was..SHAWN SCANDAL as Ace Detective!
February 27, 2016: The masquerade is over at ST. FRANCIS OF ASSISI CHURCH IN WEST NYACK because "the devil made her do it" - JULIE SHUMWAY became an Ace Detective!
March 3, 2016: The mystery sizzled at RUTH'S CHRIS STEAK HOUSE in Tarrytown and so did our Ace Detective MICHELLE BROWN!
March 15, 2016: The great Kugel heist was solved at the mystery night sponsored by CBEY SISTERHOOD and congratulations to Ace Detective DAVID JAKYBOWITZ!
March 18, 2016: BOB & MICHELLE RILEY proved that when husband and wife work together at MINERALS RESORT & SPA in Vernon, New Jersey, they wind up as Ace Detectives!
March 19, 2016: And to prove our point about marriage, Ace Detectives ALEX & DEBBIE MAIZYS hit a home run at THE VIEWS AT MT. FUJI in Hillburn!
March 26, 2016: What a day for BILL RYAN - he turned 60, he was an Ace Detective - he is Spartacus!
April 1, 2016: The answer is ANDIA WEICHT. For $1,000,000 what is the Question....Who is the Ace Detective of COUNTY CONCRETE CORP?
April 4, 2016: By using a systematic disciplined approach to solving crime, SUSAN MENDEZ became the Ace Detective of the Internal Audit team at TIME WARNER!
April 8, 2016: At the LONG ISLAND AQUARIUM, there was nothing fishy about BRIAN THE TEACHER becoming our latest Ace Detective!
April 24, 2016: It was a wedding and a marriage that was not meant to last at THE VIEWS AT MT. FUJI in Hillburn but NATASHA ROMONOFF was meant to be an Ace Detective!
April 30, 2016: The honeymoon may have been over for the killers at WEST POINT CLUB in West Point, but her career as Ace Detective just started for IVE VELEZ!
May 7, 2016: A 1950's Diamond Jubilee for ST. ANTHONY ORTHODOX CHURCH in Bergenfield, New Jersey where we mined a diamond Ace Detective ROBYN ZIEMBA (although we do suspect her husband wrote her ballot)!
June 11, 2016: A Class Reunion? Yes, for killers at THE VIEWS AT MT. FUJI in Hillburn and Ace Detectives like CRAIG BOONE!
June 16, 2016: We saluted the staff at DOMINICAN COLLEGE and also saluted CHRISTINE ZINNA as our Ace Detective!
June 17, 2016: Only one university in America has a senior prom, and at RICCARDO's, it was revealed that only one Ace Detective is JULIA CHEN!
June 18, 2016: JIMMY AND SONIA WARD married 60 years...IVAN RIVERA Ace Detective one night only!
July 20, 2016: THE INTERNS - sounds like an old TV show - but no, they are our Ace Detectives from UNTRACHT EARLY LLC so congratulations to MARK, MICHAEL, PAUL, MATT, CHRISTINA, JEFF, IVY and CHRIS!
July 28, 2016: We were on a "need to know basis" with DUFF AND PHELPS and we needed to know that JOANNA FROMMLING would be elected as Ace Detective!
August 6, 2016: Our first Ace Detective at our first show at PALMER'S AMERICAN GRILLE in Farmingdale - PAT McDONALD!
August 13, 2016: Here's a question for you - what do you get when you put together a murder mystery for BAE SYSTEMS and KNIGHTS OF COLUMBUS COUNCIL 6893? Give up? You get Ace Detective AL VISCO!
August 19, 2016: To solve the camp reunion murder at RICCARDO's, it helps to be in Middle School like SAM the Ace Detective!
September 10, 2016: If the murderers thought they could have danced all night at THE VIEWS AT MT. FUJI in Hillburn, Ace Detective L. GANDER sure put a stop to that!
September 24, 2016: PEGGY SUE didn't get married at our fundraiser for the WEST BABYLON FIRE DEPARTMENT but she did get Ace Detective!
September 29, 2016: As a guest suspect at our first show at RUTH'S CHRIS STEAK HOUSE in Weehawken, CHRISTIE RODZEN could not stop laughing - as an Ace Detective though...no she still couldn't stop laughing!
October 14, 2016: So Suffolk County ADA DAN GRAMLICH shows up at our show at PALMER'S AMERICAN GRILLE in Farmindale and guess what? He does not only get convictions but he also aolves crimes and is now an Ace Detective!
October 27, 2016: It was Halloween night at RUTH CHRIS'S STEAKHOUSE in Parsippany with so many courses, so little costumes,and Ace Detective BARABARA O'SHEA as the real "trick or treat"!
October 28, 2016: But there were costumes galore at RICCARDO'S in Astoria and our Ace Detective revealed herself as JESSICA PERATTA!
October 29, 2016: And finally we celebrated with SEVEN IN HEAVEN EVENTS at the Marriott Inn Plainview where ROB was disguised as our Ace Detective!
November 4, 2016: A corporate event for an Employee Appreciation Day at the beautiful Metropolitan Club in Newark - the entire group were solid as a "Rock" and were all Ace Detectives!
November 5, 2016: The election results came in early at THE VIEWS AT MT. FUJI in Hillburn and the winner was CAROL CORNACCHIA, our newly elected Ace Detective!
November 12, 2016: You can adopt, volunteer and donate at PUTNAM HUMANE SOCIETY but if your TABLE #1, you can also solve crime and be an Ace Detective!
December 2, 2016: The holiday season began at THE WEST POINT CLUB with BRENDA COCHARIO opening up her present - Ace Detective!
December 3, 2016: And with all the beautiful decorations at CHELSEA MANSION it was a cinch to realize that Ace Detective CONNELL BYRNE would solve the murder!
December 11, 2016: They were so confused that we just could hepl making the father/daughter team of ALEXO & ROB as our Ace Detectices for our XMAS show at THE VIEWS AT MT. FUJI in Hillburn!
December 15, 2016: So the lab reports came back from BARC USA and we're positive that JASMINE G. is an Ace Detective!
December 16, 2016: At SUEZ, people come first and RENJU MATTHEW becomes Ace Detective!
Join Our Mailing List And Receive A Monthly Notice Of Our Upcoming Murder Mystery Dinner Theatre Shows And Other Events! Your Email Address Is Used By Us Only For Our Mailing List: It Is Not Shared Or Given To Anyone Else And Is Not Used For Any Other Purpose!
You Can Also Email Us Directly With Your Request To Subscribe At killingkompany@killingkompany.com And We Will Add You To One Of Our Email List Groups
---
AS SEEN ON METRO TV - THE GUIDE
AS SEEN ON FIOS 1 TV - PUSH PAUSE
AS SEEN ON CNN FN
AS SEEN ON FOR YOUR ISLAND






TO VIEW COPIES OF VARIOUS NEWSPAPER ARTICLES ON OUR MURDER MYSTERY DINNER THEATRE SHOWS, CLICK ON THIS LINK:
TO VIEW COPIES OF VARIOUS LETTERS OF REFERENCES FOR OUR PRIVATE MURDER MYSTERY DINNER THEATRE SHOWS, CLICK ON THIS LINK:
TO VIEW COPIES OF VARIOUS EMAILS FROM AUDIENCE MEMBERS OF OUR PUBLIC MURDER MYSTERY DINNER THEATRE SHOWS, CLICK ON THIS LINK:
---
JOIN US ON FACEBOOK
AND OUR FACEBOOK FAN SITE
---
FOLLOW US ON GOOGLE PLUS, LINKEDIN, TWITTER, BLOGGER, INSTAGRAM, TUMBLR
---
We're also a proud member of

---
TO GO TO THE NEXT PAGE:
KILLING KOMPANY KASTS & KASTING
TO GO TO ANY PAGE:
Home Page........Schedule of Shows........Reviews........Ace Detectives........Kasts & Kasting Information........Private Events........Other Interactive Shows
Business Theater........Links



Web Author: The Killing Kompany
Copyright 1996 - 2017 by Jon Avner and The Killing Kompany - THE KILLING KOMPANY is a trademark of THE KILLING KOMPANY MURDER MYSTERY DINNER SHOW, INC. - ALL RIGHTS RESERVED