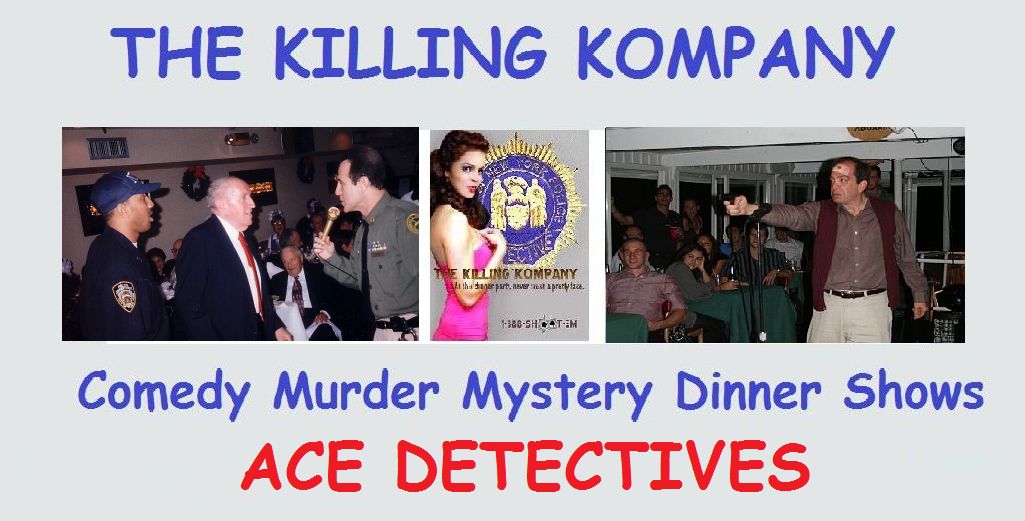 LADIES AND GENTLEMAN, WE PRESENT OUR ACE DETECTIVES FOR 2003:
January 1, 2003: We celebrated 2003 at PAPA RAZZI in Westbury with FRANK AT TABLE 4, our Ace Detective for the new year!
January 8, 2003: Alert the media - JL MEDIA that is - that BILL RYDEN has entered law enforcement as our latest Ace Detective!
January 10, 2003: Some of the smartest kids in the world can be found at TIMBERLANE MIDDLE SCHOOL, where the smartest Ace Detectives are the PINK FLUE TEAM consisting of ABBY, KATHLEEN, BLYTHE, ALEX, RACHEL, KATHLEEN, JORDAN, CAMILLE (Best Actress) and KELLEY!
January 11, 2003: Shhhhhhhhhh- keep your voice down because JOHN CICOLELLA JR. was the Ace Detective at MARIAN KRISTLIBAS' birthday!
January 13, 2003: He's the Manager of Telesales at CHASE BANK, but when Texan GARY BLODGETT came to New York, he was also hired as Ace Detective!
January 16, 2003: The innovative people at LANE LABS once had an innovative Ace Detective!
January 19, 2003: It was a Happy Birthday for NICOLLETTE BARSAMIAN, especially when Ace Detective DEMETRA KENTROTAS solved the crime!
January 24, 2003: Through rain, sleet, snow and sub zero temperatures, Ace Detective SONYA PRIVILEGI always gets her criminal at NIEDERSTEIN'S!
January 25, 2003: A murder on the mount - MT. FUJI that is - but fortunately Ace Detective LORRAINE CIARLETTA was on top of it!
January 29, 2003: With STAPLES, you get great service every day in every way and with Ace Detective DAN WEGIEL, you get great sleuthing every day in every way!
February 1, 2003: With the help of EVENTMAKERS, the newest item on the menu at McDONALD'S is Ace Detective JAYE SPRAGUE!
February 7, 2003: It was a tie at THE WHITE HOUSE, with Ace Detectives KATHLEEN URBAN and LIZ KOVACINY solving the crime in a photo finish!
February 8, 2003: Attention cadets! At THE HOTEL THAYER AT WEST POINT, JEANNIE SACCENTE is the new Ace Detective in charge!
February 9, 2003: And promoting and protecting the interests of women in the crime solving business at THE LAURELTON CLUB of NANBPWC is Ace Detective ANGELA J. SCOTT!
February 14, 2003: It's a tradition that every Valentine's Day, we produce a DNA Mystery Show for MATTLIN MIDDLE SCHOOL in Plainview through our sister company INTERACT-INC!, but this year it was not a tradition that we had two Ace Detectives: KAITLIN KAUFMAN and MICHAEL MAXANT!
February 14, 2003: At MARJEANNE CATERERS, in Lansdale, PA, we were going to ask GUS CLAEYS to be our Valentine but we asked him to be our Ace Detective instead!
February 15, 2003: All you need is love at THE VIEWS AT MT. FUJI, but when there's a murder to be solved - all you need is Ace Detective SCOTT CROSSMAN!
February 22, 2003: It's "Neighbors Helping Neighbors" with THE ELMONT FIRE DEPARTMENT, but it's only Ace Detective LIZ SCHON who's solving crimes!
February 23, 2003: Hail To The Chief and Hail To Ace Detective MARK ANGIOLILLO who saved the President at PIER ONE in Bayville!
February 28, 2003: Mardi Gras at RICCARDO'S in Astoria? That's right, we had a taste of The Big Easy with the the help of The Big Ace Detective JERRY MURPHY!
March 1, 2003: Academics, athletics and the arts are watch words at WOODLAND COUNTRY DAY SCHOOL, and BRIAN DEWINNE is the watchword for Ace Detective!
March 4, 2003: At COLOPLAST, Ace Detective JANE ELLEN BARR demonstrated crime solving without compromise!
March 6, 2003: Thanks again to COLOPLAST because Ace Detective GERI CRESPALINI not only provides the best skin care to her patients, but she also looks out for their sleuthing needs!
March 8, 2003: There was food, music and murder at the ST. JOSEPH CHAPTER of the KNIGHTS OF COLUMBUS in Keyport, New Jersey but MARYANN CASSIDY now rules as Ace Detective!
March 14, 2003: The luck of the Irish was with JOE CARBONE, our lucky Ace Detective at PAPA RAZZI in Westbury!
March 15, 2003: By the ancient laws of crime solving, you do not want to challenge Ace Detective STEFANO STELLA at THE VIEWS AT MT. FUJI in Hillburn!
March 20, 2003: Why apply with CHASE AUTO FINANCE? Great rates, fast service and Ace Detective MARK BASSIN!
March 22, 2003: At TEMPLE EMANU-EL in Long Beach, you got the rabbi, you got the cantor and now you got the Ace Detective - PETER RUBENSTEIN!
March 29, 2003: Teaching their students Reverence, Respect and Responsibility is the mission at ST. HELEN SCHOOL in Howard Beach, but now their students can learn crime solving with the help of Ace Detective FRAN SPINELLA!
March 31, 2003: In addition to being a Hero Of The Heart with the HEALTHCARE ASSOCIATION OF NEW YORK STATE, RONNIE ZWICKLE is now an Ace Detective Of The Heart!
April 4, 2003: We said Aloha to Murder at the ST. AMBROSE CHAPTER of the KNIGHTS OF COLUMBUS and Aloha to our new Ace Detective JOE FEMENIA!
April 5, 2003: A birthday in Brooklyn for MICHAL ROGERS and a crime on Colonial Road solved by Ace Detective DANIELLE ROUSSEL!
April 5, 2003: There are only 3 people who know the real wedding scandal at SOMERSET MEDICAL CENTER, and one of them is Ace Detective ROBERT MUEUER!
April 6, 2003: According to SANDRA CHASSE, it's no crime being 40 and according to Ace Detective JON LUVERT, it's no crime being in the 8th grade!
April 11, 2003: Hurray for Hollywood and at PIER ONE in Bayville, it's also Hurray for Ace Detective TISHA McGONIGLE
April 12, 2003: And at THE THAYER HOTEL in West Point, it was Lights, Camera, Action for Ace Detective RICH DONNELLY!
April 25, 2003: Dum De Dum Dum...This is the restaurant: THE WHITE HOUSE. My name is JUSTIN VUONO, I'm an Ace Detective!
May 2, 2003: She couldn't save the bride but she may go home with groom - our latest Ace Detective from RICCARDO's is MILLY SARANTES!
May 3, 2003: Pets Rock at the 2003 Veterinary Vendors of The Year Awards sponsored by HENRY SCHEIN, INC., but MITZIE REID also rocks as our Ace Detective!
May 4, 2003: It was not a mystery but game show time with "VETS MAKE A DEAL" at HENRY SCHEIN, INC. and congratulations to all the winners who discovered once again that "It Pays To Listen!"
May 7, 2003: By day at COMPUGEN, BRIAN MELOON merges computational technologies with biology, chemistry and medicine, but by night, he's an Ace Detective!
May 9, 2003: The mob in Brooklyn never had a chance at the BARON DEKALB CHAPTER OF THE KNIGHTS OF COLUMBUS with Ace Detective FRAN on their tail!
May 15, 2003: If you really want to know "Who's To Blame?" at the Junior/Senior Banquet for HAWTHORNE CHRISTIAN ACADEMY, just ask Ace Detective DAN GERMAN!
May 21, 2003: Here's one title at JP MORGAN CHASE BANK that will never change for DOMENICK BELLUSCI - Ace Detective!
May 29, 2003: If you want to know why "the devil is in the details" at CITICARDS, just ask Ace Detective MRINALINI PANDIT!
June 13, 2003: AL, JANE & BOB KLEIN claim to be a family but they were really masquerading as Ace Detectives at PIER ONE in Bayville!
June 17, 2003: Now that he has graduated from COLTON ELEMENTARY SCHOOL, JUSTIN MOLINA plans on becoming an Ace Detective!
June 19, 2003: Congratulations to the Class of 2003 at NEW MELFORD HIGH SCHOOL! After graduating, FRANNY also plans on becoming an Ace Detective!
June 20, 2003: BOB TOOMEY decided to take his wife to the Sock Hop at NIEDERSTEIN'S for their anniversary when, all of a sudden and after all these years, she discovered that her husband was really an Ace Detective!
June 21, 2003: RABBI ALAN A. KAY is turning 60 so he decided to turn HOPE ZIMMERMAN into an Ace Detective!
June 22, 2003: It was the Big 50 for JEANETTE BARBARO and the Big A for Ace Detective ARTIE D'ALESSANDRO!
July 19, 2003: Disco lives, and so do we all, thanks to Ace Detective CAROL T. who solved the crime at PAPA RAZZI!
July 25, 2003: And at THE VIEWS AT MT. FUJI, the Godfather found out he owed a favor to Ace Detective ANTON BECKER!
July 26, 2003: Discover the Adventure and Discover the Ace Detective teams of CLAIRE, ALLY, AJ, MACKIE, KENDALL, SARAH, NIKKI, RACHEL, JAMIE, SHELBY, ALLY & THE DAZZLING DETECTIVES: CARLY, NOMSA, JESSICA, DANI, AMY, DAILE, GABY, SHANNA, TAMMY, MELISSA, MORGAN, AJA & RANDI at CAMP ECHO!
July 26, 2003: Camp gives kids a world of good and at CAMP ECHO, Ace Detective ROBYN BERNSTEIN gives everyone a world of crime solving!
August 1, 2003: Maybe no one found true love at THE WHITE HOUSE in Whitestone but at least Ace Detective JAMES FINK found true crime!
August 2, 2003: When the heat is on at LANSMAN'S BUNGALOW COMMUNITY, you can count on Ace Detective KEVIN WIESEN to cool things down!
August 15, 2003: DEBORAH ROSE turned out to be The Greatest Ace Detective On Earth at THE BARNUM MUSEUM!
August 16, 2003: Now we know the secret of Joe Millionaire at THE VIEWS AT MT. FUJI but who would have thought that the secret of Joe Ace Detective was that he was really GEORGIA KEIZER!
August 21, 2003: She smiles and dials at HENRY SCHEIN, INC., but with us, Ace Detective TAMMY FUNK peruses for clues!
August 22, 2003: ANTHONY CERAMELLA celebrated the Big 50 but ANTHONY P. celebrated as Ace Detective!
September 13, 2003: What evil lurked behind LISA ROMANO's 22nd birthday...only the Shadow knows - and Ace Detective NATHAN LANZI!
September 14, 2003: LOU SCHMIDT and LINDA JAMISON walked down the aisle today but fortunately no one had to walk down the "green mile" thanks to Ace Detective MATT BRYAN!
September 19, 2003: Classmates.com turned into Murder.com at RICCARDO'S in Astoria but the killers were found thanks to Ace Detective JIM DAINO!
September 20, 2003: Most of the Hillburn Alumni at THE VIEWS AT MT. FUJI wound up as criminals but Ace Detective JIM EVERETT turned out A-OK!
October 3, 2003: A marriage made for murder was properly served at NIEDERSTEIN'S and properly solved by Ace Detective JAMES BRENNER!
October 7, 2003: We all knew that ROCHE innovates healthcare, but on board the RIVER ROSE, we discovered that DENIS MILLER innovates Ace Detectives!
October 11, 2003: They came from both sides of the Atlantic to witness the wedding celebration of NEIL & JULIE FLINT but we came to witness the sleuthing skills of KRISTIE & LEA TRAGESER!
October 12, 2003: When ANNETTE LIBARDI has a birthday, she always brings her brother-in-law Ace Detective JULES GEORGETTI to maintain Law & Order!
October 18, 2003: The election results are in and at PIER ONE it was a landslide victory for CHERYL CHUNG as Ace Detective!
October 24, 2003: When it comes to the Girls Softball Team at MOORE CATHOLIC HIGH SCHOOL, it's one, two, three strikes the criminals are out with Ace Detective ED MAUGERI!
October 25, 2003: The music is to die for at CONCORDIA CONSERVATORY and so are the killers when Ace Detective CHERYNE McBRIDE makes them face the music!
October 30, 2003: It was scary in Suffolk County at the ELK STREET GRILLE but Ace Detective COURTNEY BREWER chased the ghosts and the killers away!
October 30, 2003: Who knew that in order to be a Queens North Branch Manager at JP MORGAN CHASE you also had to solve crimes - well Ace Detective MARY CAPPUCIO knew!
October 31, 2003: And at THE HOTEL THAYER in West Point, there was no need to call in the army with Ace Detective JOHN CARDARASO on hand!
October 31, 2003: It's true that the private members club SOHO HOUSE is located in Manhattan's Meatpacking district but that's because Ace Detective DENISE LIBERT is also packing!
October 31, 2003: Is it really different strokes for different folks at SUNY AT NEW PALTZ? No - it's just Ace Detective ROBERT STOKES, with thanks to PARADIGM ATTRACTIONS!
November 7, 2003: It took a f***** family reunion at f***** PAPA RAZZI for f***** ELIZABETH SOLOMON to f***** finally win the f***** Ace Detective!
November 12, 2003: He has many aliases at STAPLES: he's known as "Sheriff of Shrink", he's known as "Number 50" but now he's known as Ace Detective and he's ROB SHIELDS!
November 14, 2003: When it comes to fighting crime at THE WHITE HOUSE in Whitestone, Ace Detective TERRY SPINA will always be there for you!
November 15, 2003: All the students are stars at OUR LADY OF GUADALUPE SCHOOL in Brooklyn but only MAUREEN MILIA is the Ace Detective!
November 18, 2003: NEWTOWN SAVINGS BANK is the bank you keep for life so at our wedding show, all of our Ace Detectives decided that "Best Matchmaker" and "Best Match" JESSICA COTE is the woman some lucky man will soon get to keep for life!
November 21, 2003: Was it a "slumber party" or a "crime party" at HADLEY WALSH's birthday? Only Ace Detective SOFIA PEPPE knows!
December 5, 2003: A blizzard is nothing when it comes to holiday parties at WATSON WYATT and solving a few murders is nothing to Ace Detectives FRANK & PAT POLLARO!
December 6, 2003: Did she come up from Florida to celebrate HELEN & BILLY REIMAN''s 50th birthday? Did she come up to see Northport, Long Island buried under 2 feet of snow? No - she came up to solve the murder of the mayor and she is Ace Detective AMY MARIANI!
December 9, 2003: Well we have to chalk it up to the holidays because at IPSOS, no one figured out the crime but we made TALIN ESHAGHOFF our Ace Detective because she "J'Accuse" the CEO!
December 10, 2003: They have some wild holiday parties at HARMAN CONSUMER GROUP and tonight's party at PIER ONE was no exception, but MICHAEL COLE got his audio and video products together to solve the crime and become our latest Ace Detective!
December 11, 2003: And Ace Detective TONY McGIVERN had a just in time response solution to the murders committed at the holiday party for ADEPTRA!
December 11, 2003: Courtesy of ENTERTAINMENT UNLIMTED, we were able to perform a game show for NESTLE WATERS and since we had 30 winners of WHAT'S MY WATER LINE?, we decided to make them all Ace Detectives!
December 13, 2003: The Don couldn't "don his gay apparel" at the holiday party at PIER ONE in Bayville because Ace Detective VICTOR GASIO knows who's naughty and who's nice!
December 16, 2003: It's never a bad hair day for killers when Ace Detective PEGGY BURTON of COLOMER USA is around to give them the beauty treatment!
December 18, 2003: At the Global Procurement Department at PEPSICO, everyone knows that the crime solving skills of Ace Detective STEVE KLINE beats the others cold!
December 21, 2003: Will he follow his father and pursue a career in personal injury law at THE LAW FIRM OF JONATHAN D'AGOSTINO & ASSOCIATES, P.C. or will he enter the world of law enforcement...only Ace Detective JONATHAN D'AGOSTINO, JR. knows!
December 27, 2003: And at THE VIEWS AT MT FUJI in Hillburn, our Ace Detective of the year was KIM CARNEY!
TO VIEW OUR ACE DETECTIVES FROM OTHER YEARS, JUST FOLLOW THESE LINKS:
1996 Ace Detectives...1997 Ace Detectives...1998 Ace Detectives...1999 Ace Detectives...2000 Ace Detectives
2001 Ace Detectives...2002 Ace Detectives...2003 Ace Detectives...2004 Ace Detectives...2005 Ace Detectives
2006 Ace Detectives...2007 Ace Detectives...2008 Ace Detectives...2009 Ace Detectives...2010 Ace Detectives
2011 Ace Detectives...2012 Ace Detectives...2013 Ace Detectives...2014 Ace Detectives...2015 Ace Detectives
2016 Ace Detectives...2017 Ace Detectives
---
TO GO TO THE NEXT PAGE:
TO GO TO ANY PAGE:
Home Page........Schedule of Shows........Reviews........Ace Detectives........Kasts & Kasting Information........Private Events........Other Interactive Shows
Business Theater........Links



Web Author: The Killing Kompany
Copyright 1996 - 2018 by Jon Avner and The Killing Kompany - THE KILLING KOMPANY is a trademark of THE KILLING KOMPANY MURDER MYSTERY DINNER SHOW, INC. - ALL RIGHTS RESERVED