HERE IS THE WINNER OF CONTEST NUMBER FOURTEEN - TO PUT A CAPTION ON THIS PICTURE!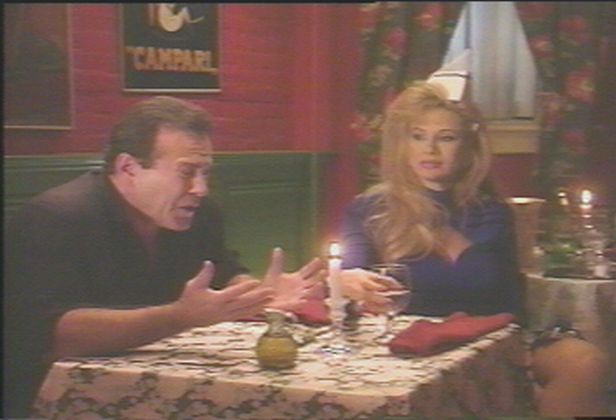 From Leonnetti Davis (leonnetti@gmail.com): "I can't believe I paid for dinner and now you want a divorce!"
HERE IS THE WINNER OF CONTEST NUMBER THIRTEEN - TO PUT A CAPTION ON THIS PICTURE!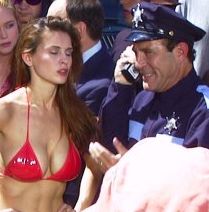 From Joseph Faller (who didn't collect his prize) (odjoe@verizon.net):
"Oh your coming with me!"

HERE IS THE WINNER OF OUR TWELFTH CONTEST - TO PUT A CAPTION ON THIS PICTURE: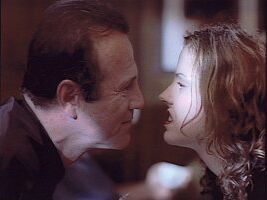 From Eddie Quinn (quinn13@optonline.net):
"Oh yes, you do need two tic tacks!"
HERE IS THE WINNER OF OUR ELEVENTH CONTEST - TO PUT A CAPTION ON THIS PICTURE: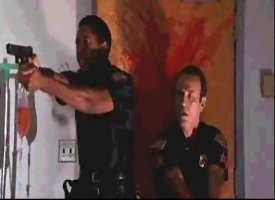 From Jacqueline Andino (jandino7@tmail.com):
"Ok Buddy, I'll cover you while you get your flu shot!"
HERE IS THE WINNER OF OUR TENTH CONTEST (Insult A Cop)
From Elisa Dillman(Pickle3180@aol.com):
"Aren't you the guy from the Village People?"
---
AND HERE IS THE WINNER (WHO NEVER CLAIMED THE PRIZE) OF OUR NINTH CONTEST (A Criminal Alias)
From T Roman (jt3k@nyc.rr.com):
"The Booby Bandit: Steals silicone implants!"
AND HERE IS THE WINNER OF OUR EIGHTH CONTEST (Something Criminal That Sounds "Racy")
From David (dhascup@hotmail.com):
He was arrested for organized cock fights.
AND HERE IS THE WINNER OF OUR SEVENTH CONTEST (Imaginary Name For Law Enforcement Officer)
From Ken (Rocky0875@netscape.net):
Inspector Grant F. Tauto
AND HERE IS THE WINNER OF OUR SIXTH CONTEST (Email Address For Law Enforcement Officer or Criminal)
From James (Radiollama@aol.com):
"dumdedumdum@drag.net"
AND HERE IS THE WINNER OF OUR FIFTH CONTEST (Imaginary Criminal With Record)
From George (Rook1023@aol.com):
"ARMAND HAMMER - Notorious pastry chef who smuggles cocaine in baking soda boxes!"
AND HERE ARE THE WINNERS OF OUR FOURTH CONTEST (The Best Wiseguy's Insult To A Cop)
From Sara (sara.scherer@mci2000.com):
"Too bad you're a cop - you make lawyers look good!"
From Christopher (Chris_Mulstay@dbm.Com):
"Here's a donut - Go away!"
AND HERE IS THE WINNER OF OUR THIRD CONTEST (The Best Suspect's Speech)
From HALFAGLASS (halfaglass@aol.com):
"Well of course I would be a likely suspect! Yes it's true, I've lied about my whereabouts, I cheat on my wife and my taxes. I detest small animals and children. I dislike the handicapped and LOVE handicapping the ponies. I detest the movie Bambi, but LOVE it when the Bambi I know is available Saturday night. But kill him? No. If I had killed him, I would have placed a few bets first!"
AND HERE IS THE WINNER OF OUR SECOND CONTEST (The Best Hitman's Speech)
"WEDDING WOES" From "marybeth@willy.ee.TU-berlin.de":
THE SCENE: A catering hall where relatives and friends have gathered to celebrate a wedding. The photographer's flash goes off. She stops and gives instructions to the young couple being photographed.
PHOTOGRAPHER: That's great Debbie, gorgeous smile. Now you just lift your head up and give hubbie a peck on the cheek. (DEBBIE COMPLIES.) Turn your face a little more towards me ...and.....(THE FLASH GOES OFF.)
KILLER?: Lookin' good Debbie, lookin' real good.
DEBBIE: Umm thanks....(DEBBIE GLANCES NERVOUSLY AT HER HUSBAND AND LOOKS AT THE STRANGER.) Do I know you?
PHOTOGRAPHER: Listen we're just about finished here. Wait for me outside and we can talk about this after I'm done.
KILLER?: Oh, you're done.
DEBBIE: I don't think I know you.
KILLER?: No, Debbie, you don't know me. But our little photographer friend does. Isn't that right, my Polaroid Princess? Don't you look so professional with that big ole' camera. I'd like to bash your head with it! She took my wedding pictures too. Took 'em and lost the damn negatives! A once-in-a-lifetime event gone, forever. I could just die! Don't trust her Debbie, don't. And save all your receipts. As for you, Ms. Photographer, I've got your final check right here!
(The lights go out and Debbie screams as a crash and a thump is heard. When the lights come back on the camera equipment is knocked over and the photographer is lying in a pool of blood. However, did our killer really commit the crime? There are a lot of potential suspects. The haggard photo assistant/slave, another disgruntled customer secreted among the guests, perhaps the father of the bride didn't want to pay the bill, after all the photos were just about done.....Hmmm?????)
AND HERE IS THE WINNER OF OUR FIRST CONTEST (The Best Killer's Confession)
From We Don't Have The Name But We Do Have The Email Address as "dwaynes@tiac.net":
I did it. I killed her. She was rude and had poor taste. She wore stripes with plaids and used way too much sugar in her coffee. I used a knife because I wanted her to feel the dying. Guns can kill you quick. Knives too, but only if you're lucky. I have terrible luck so I used a knife. Stabbed her three times before I had to let her fall. She bleeds poorly too. Squirting all over the place. Staining my new suit. I'd kill her again if I could. She just rubbed me the wrong way... always.
---
TO GO TO THE NEXT PAGE:
KILLING KOMPANY ACE DETECTIVES
TO GO TO ANY PAGE:
Home Page........Schedule of Shows........Reviews........Kontests
Ace Detectives........Kasts & Kasting Information........Private Events........Other Interactive Shows
Business Theater........Links



Web Author: The Killing Kompany
Copyright ©1996 - 2017 by Jon Avner and The Killing Kompany - THE KILLING KOMPANY is a trademark of THE KILLING KOMPANY MURDER MYSTERY DINNER SHOW, INC. - ALL RIGHTS RESERVED