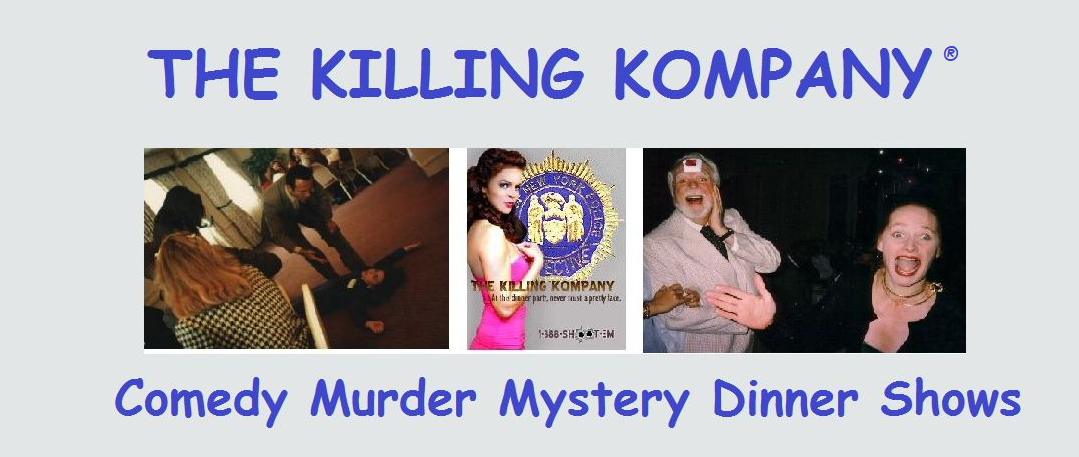 Since 1993, we have been performing comedy murder mystery shows everywhere; but since the corona virus, we haven't been performing anywhere. So we decided to do a virtual interactive murder mystery on Facebook where you can still be part of the show and be a detective and try to solve the murder. So please join this group - it's free, it will be fun, there will be songs, music, crimes and mystery, laughs...everything our regular shows have - but just no dinner. Each day there will be either a new video scene, new evidence, new revelations and you can interrogate the victims, the suspects, each other and maybe even decide what happens next.
Here is the link: The Killing Kompany Virtual Murder Mystery
OUR SHOWS IN MARCH, APRIL AND MAY COULD NOT BE PERFORMED DUE TO PANDEMIC BUT WE ARE HOPING FOR JUNE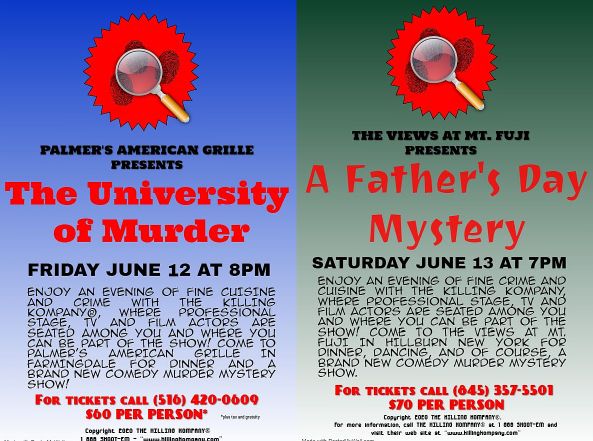 Welcome to THE KILLING KOMPANY® and the world of interactive audience participation murder mystery dinner theatre shows, where, since 1993, professional Broadway, TV and film actors are seated among you and at any time you may wind up part of the plot. Don't worry - you don't have to learn any lines or do anything other than be yourself and have fun. But be careful - "evidence" may be created in our mystery dinner shows in which you are made a suspect! So not only do you get to dine and dance at one of the finest restaurants in your area, but you also get a murder mystery dinner show where you get to solve the crime and match wits with the detective! And prizes will be awarded to the winners! Our casts are located in New York City (and Los Angeles) and perform for private events around the world! Our open to the public murder mystery dinner theatre shows are based in the NY/NJ area So take a tour of this web site and of course, if you want to speak to us, you can call us at 1 888 SHOOT-EM or 212 772-2590 or you can Email us at killingkompany@killingkompany.com
---
OUR NEXT OPEN TO THE PUBLIC MURDER MYSTERY DINNER THEATRE SHOWS ARE AT RICCARDO'S IN ASTORIA, PALMER's AMERICAN GRILLE IN FARMINGDALE, THE VIEWS AT MT. FUJI IN HILLBURN, OFF KEY TIKKI IN PATCHOGUE AND IL PALAZZO IN WANAQUE!
SPECIAL SHOW OCTOBER 29 AT RUTH'S CHRIS STEAK HOUSE IN PARSIPPANY AND OCTOBER 30 AT RUTH'S CHRIS STEAK HOUSE IN WEEHAWKEN!
---
Join Our Mailing List And Receive A Monthly Notice Of Our Upcoming Murder Mystery Dinner Theatre Shows And Other Events! Your Email Address Is Used By Us Only For Our Mailing List: It Is Not Shared Or Given To Anyone Else And Is Not Used For Any Other Purpose!
You Can Also Email Us Directly With Your Request To Subscribe At killingkompany@killingkompany.com And We Will Add You To One Of Our Email List Groups
---
AS SEEN ON METRO TV - THE GUIDE
AS SEEN ON FIOS 1 TV - PUSH PAUSE
AS SEEN ON CNN FN
AS SEEN ON FOR YOUR ISLAND




TO VIEW COPIES OF VARIOUS NEWSPAPER ARTICLES ON OUR MURDER MYSTERY DINNER THEATRE SHOWS, CLICK ON THIS LINK:
TO VIEW COPIES OF VARIOUS LETTERS OF REFERENCES FOR OUR PRIVATE MURDER MYSTERY DINNER THEATRE SHOWS, CLICK ON THIS LINK:
TO VIEW COPIES OF VARIOUS EMAILS FROM AUDIENCE MEMBERS OF OUR PUBLIC MURDER MYSTERY DINNER THEATRE SHOWS, CLICK ON THIS LINK:
---
JOIN US ON FACEBOOK


AND OUR FACEBOOK FAN SITE

Although it's been some time since the September 11 tragedy, our hearts and prayers still go out to everyone and their families. Thanks to your support, from 9/11/01 through 9/11/02, we were able to donate over a thousand dollars from ticket sales to various September 11 Charities.
And thanks to your support, in 2012, we were able to donate proceeds from ticket sales to victims of Superstorm Sandy to The American Red Cross.
---

In memory of one our actors, Lee H. Doyle, April 20, 1928 - September 26, 2007

In memory of one our actors, Annette Hillary-Gordon, October 5, 1965 - August 8, 2009

In memory of one our actors, Stacie Linardos, September 13, 1952 - August 17, 2011

In memory of one our actors, Mark Enis, May 21, 1951 - August 2013

Finally, in memory of Ron & Joni Pacie, the owners of Murder Mystery, Inc. and producers of "Murdered By The Mob", both of whom passed away. During the early to mid 1990's, I was involved in many of their shows. It was a lot of fun to work with them and the other actors.....Jon Avner

---
TO GO TO ANY PAGE:
Home Page........Schedule of Shows........Reviews........Ace Detectives........Kasts & Kasting Information........Private Events........Other Interactive Shows
Business Theater........Links
Why not search our site!
---
Hello to all our visitors! You are number:
---



Last Update: 05/08/20
Web Author: The Killing Kompany®
Copyright 1996 - 2020 by Jon Avner and The Killing Kompany® - THE KILLING KOMPANY® is a service mark of THE KILLING KOMPANY MURDER MYSTERY DINNER SHOW, INC. - ALL RIGHTS RESERVED